Posted: April 1, 2001
Written by: Dan "Tweak Monkey" Kennedy

Stage II - Exhaust

Nothing says performance like a high-flow, oversized exhaust tip. No, I'm not talking about a muffler with a big outlet (that might give horsepower.. remember, we have enough for now) or new muffler bearings, but we just wanted a big exhaust tip. After looking around my garage for various items that might serve this purpose, nothing seemed to fit. At that moment I remembered my parents were avid coffee drinkers. I scanned my garage again, and what did I find? The perfect exhaust tip! So we used some precision measurements to get the exact size of the inlet to the tip.



"The Best Part of Waking Up..."



Once the measurements were made, the next step was to cut the inlet. Again, precision was key.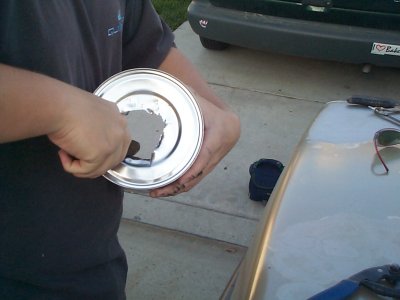 The precision of wire cutters is undeniably astounding.



Next, we decided to mount the exhaust tip on the muffler. After a two hour debate over mufflers, we finally decided that the mufflers of a car exit under the dash. Then we later found out (through another two hour debate, this time with some 6 year olds) that the muffler is actually UNDER the car! Wow, what a shock. Anyway, we mounted the exhaust tip carefully.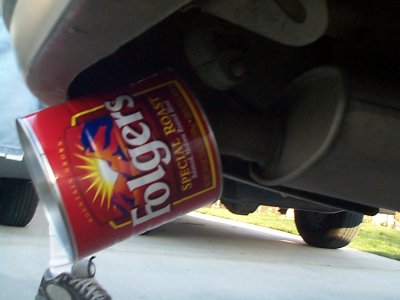 Ooh, "Special Roast". That has to add power.



Finally, the exhaust tip was mounted. Unfortunately, early road tests indicated that simply putting it on wasn't good enough. We also concluded (by playing paper-rock-scissors; I chose paper and won by a landslide) that we would need to tie a midget under the car to hold the ~200ºF exhaust tip in place (well, he'd wear gloves... duh). When we couldn't find a midget, we got desperate.



Is that a... bungee cord? Yikes!



The exhaust was complete. It sounded *ahem* great and it seemed to boost the F1 engine's theoretical performance substantially.