Matrox G400 Tweak Guide (Page 2/4)


Posted: November 28, 1999
Written by: David "Spunk" Grampa

Updated Driver Installation

As with all respected video board companies, Matrox included, updated drivers and patches are very abundant. Many of which increase the performance of the product, or fix known bugs. Here are the latest drivers available from the Matrox website. Be sure to follow the installation instructions provided by Matrox... Driver installation can sometimes be a demanding and frustrating task.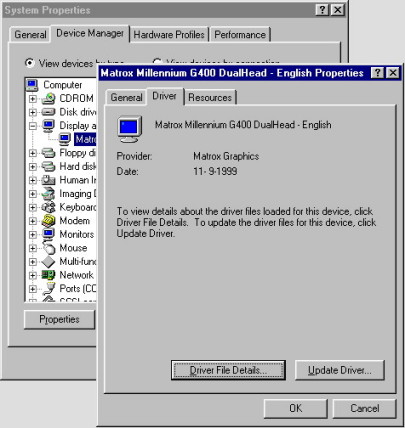 If your screen is lookin' along the lines of the above, then you're in good shape.



Installation Instructions

Once you've grabbed the correct updated driver for your operating system, go ahead and unzip it into the default directory provided by winzip. Right click on My Computer and choose Properties. Next, click on over to the Devices tab and highlight Matrox Millennium G400 DualHead under Display Adapters. Once again click the Properties button and snoop on over to the Driver tab. Click "Update Driver..." at the bottom right and stroll through the Windows instructions until you reach Specify a Location. Punch in the directory that WinZip extracted your drivers too (by default C:\mgafold\w9x_530) and hit Next. Continue from there until you are prompted to restart and do so.

Once all that is completed and out of the way, meet me on the next page and we'll use Matrox's own Developer's Tweak Utility and do some hardcore overclocking.