Matrox G400 Tweak Guide (Page 3/4)


Posted: November 28, 1999
Written by: David "Spunk" Grampa

G400 Tweak Utility

The actual core clock speed of the G400 was kept a secret. Perhaps Matrox doesn't even know, but who cares, the chip runs fast and that's all we need to know. Now we can push the G400 even faster. Matrox released a Tweak Utility that turns off vSync and can overclock the core of the chip up to 160 percent! However, this is for use by "Developers", but if you don't abuse it you won't lose it, or rather melt your board. Here is the official note from Matrox:


"The main purpose of this utility is to respond to the overwhelming demand from the Developer Community who require such a tool for the purpose of debugging, optimizing and fine tuning applications under development. This utility only supports G400 boards and will not function on a WHQL certified driver.

This utility is not recommended for use by the ordinary end user. However, due to the overwhelming amount of problems encountered in the field with 3rd party overclocking utilities, advanced users who insist on making use of such utilities are recommended to use the Matrox utility instead in order to avoid the risks associated with 3rd party utilities. These 3rd party utilities typically program the bios incorrectly and can potentially damage the board thereby violating the warranty on these board.

Matrox does not promote the use of any overclocking tool. Matrox will only support the Matrox tweak utility to the extent of providing support for uninstalling and/or disabling the utility."
The utility is available right here: Matrox Tweak Utility Version 1.00.012 (825 KB)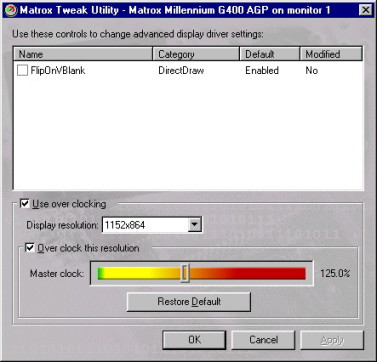 That sums up about everything I would have told you. Install the utility, check out the readme and you are ready to overclock. We turned off vSync and overclocked our G400 to 125% comfortably. All this without special cooling or experiencing any problems... Above is a pic of the program at work.