Nvidia GeForce3 Ti 500 Preview (Page 1/6)


Posted: October 1, 2001
Written by: Dan "Tweak Monkey" Kennedy

Introduction

Titanium is here! What the heck does that mean? It's the next generation GeForce product from Nvidia. Dubbed "GeForce3 Titanium 500", it's one bad mammajamma with a score to settle. Okay, so at first glance, it's nothing more than a hot-rodded GeForce3. But like a typical hot-rodder, Nvidia knows the saying, "If it ain't broke, don't fix it."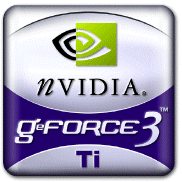 Almost exactly two years ago I was writing about the GeForce 256, the card that Nvidia said would change the way we play. It offered incredible new features, and performance that put Nvidia on the top (and kept it there). Then, in April of 2000, it was the GeForce2 GTS that I wrote about. It offered even more features, and once again, even better performance. By this point, people were thinking the GeForce name was getting old, but just about one year ago it was the GeForce2 Ultra that I was testing. Everyone said it was nothing more than a GeForce2 on steroids, and they were right. Nvidia never said it was anything more than a faster GeForce2, much like the TNT2 Ultra from what seems like aoens ago.

Finally, just six or seven months ago, the GeForce3 was brought to the market. You know Nvidia's pattern. Was there any doubt there'd be a... "GeForce3 Ultra"?

GeForce3 Ultra? Or...?

Nvidia doesn't call the GeForce3 Titanium 500 (or Ti500 for short) a "GeForce 3 Ultra". But come on... we know the drill. We know this card is a GeForce3 with better performance, and not many new features. After all, developers are still struggling to implement features from the GeForce3 (and maybe some from the GeForce2!). We have the features. We have good performance. But who's going to complain about yet another 50% performance improvement?

As a GeForce3 owner, upgrading to a GeForce3 Ti500 wouldn't make sense. Much like it wouldn't make sense upgrading from a GeForce2 GTS to a GeForce2 Ultra in its day. The card is being offered by Nvidia as part of its new fall line-up, which you'll learn more about very soon.

Without further ado, we present to you the GeForce3 Titanium 500.