Posted: December 4th, 2001
Written by: Tuan Huynh

Features Continued...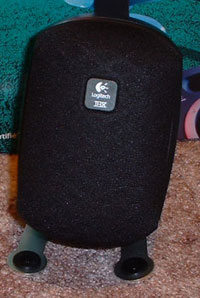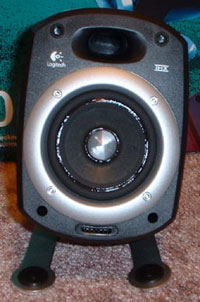 The satellites have a black grille covering them sporting the Logitech and THX logos. When you remove the grille, you'll reveal more Logitech and THX logos. The speaker has a stainless steel center cone which adds to the look and sound. The satellites have a RMS output of 53 watts per channel totaling 212 watts for all 4 channels.


The satellites use normal speaker cables commonly found on home theater systems and car stereos and are wall mountable by removing the screw from the speaker stands and reversing them.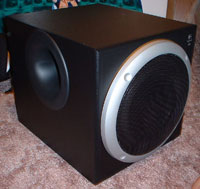 The Z560 subwoofer is a massive 8inch front firing and is rated at 188 watts RMS! This subwoofer overpowers the Klipsch Pro Media 4.1, which is 160 watts. The back of the subwoofer contains the connectors and a large heatsink that gets extremely warm during use. From left to right the connectors are Fuse, SoundTouch control center input, Right Rear, Right Front, Left Rear, and Left front.