Logitech Quickcam Cordless

Posted: March 21st, 2003
Written by: Justin "The Sheriff" Woods
---
---


The Camera


One of the most important features of the camera is its LCD screen, it shows you battery level, which channel the camera is transmitting on, and whether you're in video mode, or still mode. Since the camera is sending data to your hard drive while it is recording, there isn't a need to have its own storage, so it doesn't show how many shots you've taken. Below the LCD panel are 2 small silver buttons marked "S" and "M", which are used to set the different modes. Pressing the M (mode) toggles between the cameras 2 modifiable user settings, being still/video mode, and channel (1-4). Here you also have the viewfinder. Looking through the viewfinder, I found my cheek resting on the LCD, which would leave a little bit of a haze from the skin's natural oil. This doesn't really affect anything as you really only use the LCD for one function (changing between cam and still images), and only rarely at that. It doesn't impede your vision through the viewfinder at all, but it is something I noticed while using the camera.
You'll notice a constantly flashing green light coming from the front of the viewfinder, when filming it flashes with a little more frequency than when it is not being used. It does consume the entire viewfinder with a green glow, but doesn't become annoying, as it isn't that bright.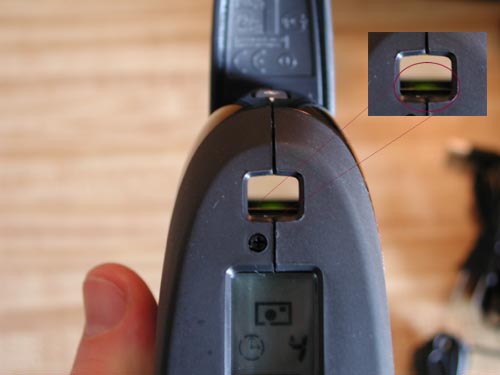 On the front of the camera is a small button, which you push to take pictures in the still camera mode. In video mode, you press and release the button to begin recording and press again to stop. The software that comes with the camera allows you to start and stop recording even if the camera is in another room, so you aren't going to need to push these buttons unless the camera is in hand. You can control most aspects using your mouse. I'll talk about the software in a little more detail later.