AMK's 292-333 Case (Page 2/4)


Posted: February 14, 2001
Written by: Chris Burek
ESP: $149.99 CDN (~$100 US) from AMK Services

Features

Another notable feature of the 292-xxxx is its ability to convert from a tower case to a functional desktop unit, by making minor modifications to the drive bays.



Who said desktop PCs were extinct?



The model we received, 292-3333, includes a 300-watt power supply, three custom fan holes (complete with chrome grills) and four Sunon 80mm fans. It houses three 5.25" and three 3.5" drive bays, and retails for $149.99 CDN (about $100 USD).

The fan setup is as follows:
(1) 80mm exhaust fan on the top of the case (commonly referred to as a blowhole).
(2) 80mm intake fans positioned vertically on the left panel.
(1) 80mm intake fan situated in the front.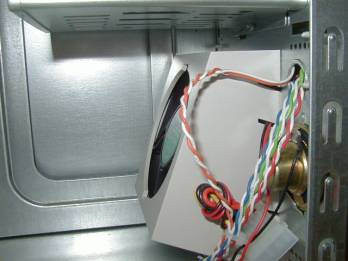 The above image shows that the fan in the front of the case is actually on a slant, which helps the air blow up towards the motherboard and video card, etc. (Some images courtesy of PC Extremes and AMK).

That adds up to a total of five fans, including the power supply fan. Of course, five fans equals a very noisy case. I found myself at times, distracted by how loud the unit actually is. It should grow on you after a while, though.

There's also a spot reserved for another 80mm fan (not included) at the back of the case, which could be put to good use as a second exhaust port. This is part of the stock setup however, not a customisation by AMK.