AMK's 292-333 Case (Page 3/4)


Posted: February 14, 2001
Written by: Chris Burek
ESP: $149.99 CDN (~$100 US) from AMK Services

More Features

The holes carved by AMK are perfect circles, and look very professional. Removal of the fans and grills, however, proved that the edges are a bit rough. This isn't much of an issue, though.

The bundled 300-watt power supply is made by Deer, which I've previously determined (from past mishaps) are rather cheesy units. This proved true again -- After a few weeks using this case, I noticed a slight, constant rattling emitting from the power supply. It was not very loud, but enough to get on my nerves when I was not distracted. I tried the usual banging with my fist technique on the case, but to no avail. This shouldn't affect performance, though.

The 292-3333's design is very attractive. I'm a big fan of the way the front bezel looks, and there is a lot of room to move around inside the case. The motherboard was very easy to mount, and the drives were even easier. The included plastic rails snap right into the existing screw holes on your hard drives, floppy, CD-ROM, etc. and slide into the drive bays. Removing them is just as easy - you just squeeze the two slips at the end and pull.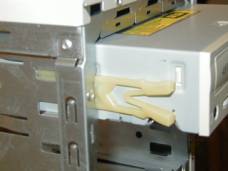 Ooh, Another Feature!

The clamp that secures the cards is so simple (and easy to use); I'm surprised it hasn't become a mainstream trend. I makes adding and removind add-in cards noticeably faster. I'm not aware if any other case housing this feature, but I'd be pleased to see it widely implemented in the future.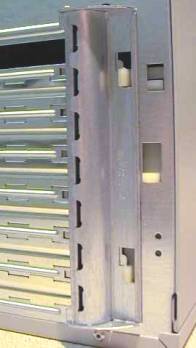 I hate screws.