Addtronics 6896A Review (Page 2/3)


Posted: June 26, 2000
Written by: Dan "Tweak Monkey" Kennedy
Price: $132.00 (300 watt version) from The Card Cooler
Review unit supplied by: The Card Cooler

Installation

I once made the mistake of buying a cheap case. Don't get me wrong here -- it looked great on the outside and it had a fair amount of room, but it lacked mounts or even decent locations for fans. It was difficult to remove or add hard drives in that case, and it was nearly impossible to change out a CPU without removing the power supply completely.

The Addtronics 6896A is a tweaker's dream! It not only had plenty of locations for fans with little mounting racks that work perfectly, but it is very easy to work in. It has tons of room in every direction, and the 300 watt power supply, which can be upgraded to a 400 watt or downgraded to a 250 watt to save a few bucks, is plenty for all the fans I added. However, when I added my 10,000 RPM SCSI drive and two IDE drives, my CD-ROM, CD-RW, Alpha cooler, and some more stuff it started to have problems with the Celeron II @ 1.75 volts. But hey -- 300 watts is still plenty for the average user.

Installing the motherboard and add-on cards into the case was no sweat. Everything fit without problems. And this case uses drive rails, which have benefits and burdens... but in this case, I was happy to have them. Not only does it make sure your drives line up perfectly, but it makes removal very easy.




Sometimes case manufacturers give plenty of openings to the face, but rarely do these manufacturers open the face up so air can flow through. Luckily, Addtronics has a re-usable filter that lets air pass through easily.

Below is a picture of the motherboard after it has been installed. Notice that directly above the CPU is a spot for an 80mm fan. What a great idea!




There is a 120mm *quiet* fan in front, and as you can see, there are spots for 80mm fans on both sides of the 5 1/4 bays and in front of the hard drives. There is also room for a 92mm fan behind the CPU.

Plugging in the LEDs and other wires can be done even with the face of the case off, thanks to this: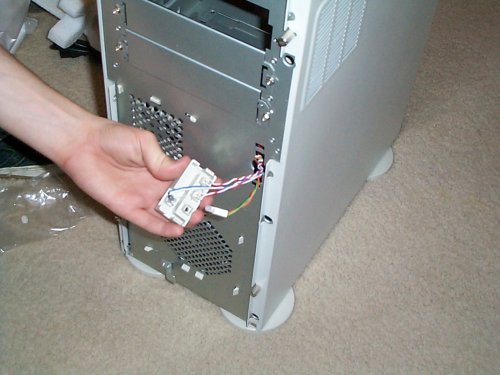 This made the $3 blue LED "mod" very easy. (Blue LEDs are available from your local Radio Shack).

More Stuff..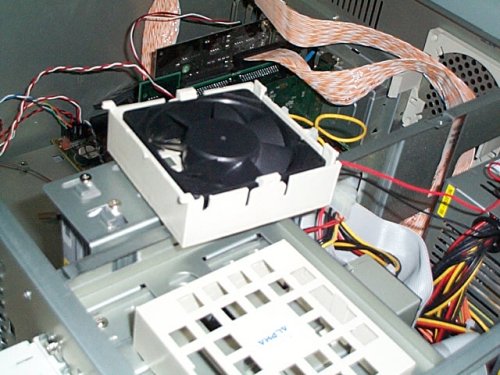 The fan cages are very useful. The fans simply snap into place and then lock onto the chassis. No drilling is required.




The front grille looks great, and the Addtronics badge really makes the case shine. All in all, the appearance of the case is great.
Here's a pic of the completed project (GlobalWin IStorm hard drive cooler is not included!):