Addtronics 6890A Full Tower Case (Page 2/3)


Posted: January 10, 2000
Written By: Keith "Farrel" McClellan

Installation/Design

This case isn't nearly as easy to use as the Tornado 1000 case, but it is a lot safer for college dorm rooms. The keylock/screw configuration makes it impossible to break into without damaging the case, and I prefer this little extra security over the ease of thumbscrews. Also, it should be noted that this case is really an industrial case, so don't expect smooth edges. The latter is something I am a little concerned about... but not terribly so, because the design is so simple that it would be really tough to cut yourself.

Installation was a snap though, with dual swinging doors, removable motherboard tray, and rail-based drive mounting. I was really impressed with how quickly I could move my computer from my old generic case into the 6890A. Fan placement is excellent... the extra cooling allowed my CPU to be overclocked 172 MHz over the spec'd speed, as opposed to only 50 MHz over the original speed... of course that isn't saying much for my old case, now is it? The case isn't too bad looking either, if you ignore the fact that it can be called nothing but a monolith.

Test System

Celeron 400 PPGA on ABIT SlotKey
Abit BH6 Motherboard
128 Mb. RAM
Voodoo3 2000
IBM 7200 rpm 9.2 gig HD.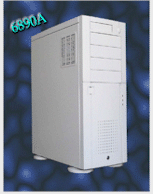 In the folowing test, I had the Celeron 400 OC'd to 572 mhz and the Voodoo3 2000 overclocked to 167 mhz. When testing for system temperature, I used Unreal, Quake 3, and a system stability test which keeps the processor usage up between 95 and 100% at all times for at least a half an hour.

Benchmarks

Of course, the case would maintain 572 Mhz stable running all of my test programs, and the case temperature remained 31°C during the entire onslaught of the testing. Even if I bump the clock up to 600 Mhz, the temperature doesn't rise - but the system crashes anyway. This leads me to believe that 572 is the reasonable limit of my processor - and my problems have nothing to do with air flow within the case.

Now, if you look at the temperature information for the Tornado 1000 review, that temperature is much lower than two of the listings, but it is higher than the third (system) temperature rating. There are two reasons for this. (1) The actual ambient temperature in my room is between 24 and 25°C, while it is probably closer to 19 or 20°C where David is. (2) The heat sensor on the BH6 is in a different place than the one on the BE6. These two variables more than account for the difference in readings.