Posted: December 14th, 2004
Written by: Adam Honek
---
---


First impressions and box contents



The first thing anyone is bound to notice is the box, with its metallic blue and clear writing there is no confusion of what's inside, should this not be the case an explanation in no less than seven languages is apparent on the rear of the box. Inside except the card we find two CD's (drivers + PowerDVD 5.0), a user manual, a DVI to HD-15 converter, and S-Video cable. The card itself includes in addition to the standard fan also copper heat sinks on all 128MB of its 2ns DDR3 memory. Given that the latter is a low power thus low heat type of memory these are more to increase looks than serve as a heat extractor. The card is of normal length hence should not cause problems intruding into the DIMM sockets on various motherboards and size wise is an ideal candidate to anyone's SFF PC. The build quality is upon inspection best described as very good while the standard included warranty is 2 RTB (Return To Base). As some may have already noticed Galaxy sadly refrains from including any games as sometimes available elsewhere.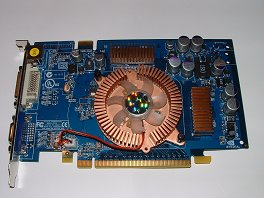 Click images to enlarge.