Windows XP / 2000 Startup Tweak Guide (Page 3/5)


Posted: November 19, 2001
Written by: Dan "Tweak Monkey" Kennedy

System Configuration Utility ("MSCONFIG") (cont.)

Skip over "Services" (we'll head back to this later). Now head over to the "Startup" tab.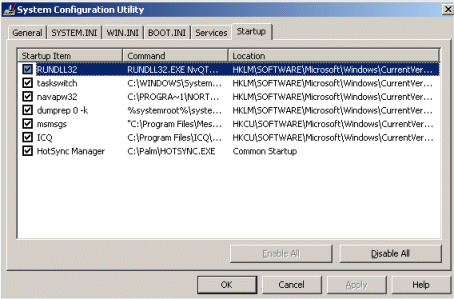 This allows you to toggle programs that are loaded with Windows. You can stretch out the "Command" bar (in the middle) if you are having a hard time telling what program is actually running. The path is displayed so you can decide if it's non-essential.

You'll likely want to keep ICQ on this list if you use it frequently, but some of the other programs can go. I was having stability programs with the Nvidia Quick Tweak tool (which I wasn't even using), so I unchecked the box. Office Startup or Findfast can be removed unless you use the MS Office toolbar. These programs can cause slowdowns. In XP, remove "msmsgs" (Microsoft Messenger) unless you use it.

I removed the HotSync app that is used with my Palm because I rarely use it, and it automatically loads if I add programs to the HotSync list.

Don't remove anything you're unsure of, or you could have major stability problems. Any program that is removed from this list can easily be added ... as long as you can get back to Windows. Once you're done with the application, click Ok. It may ask for a reboot, but it's not necessary just yet.

Manually Removing Startup Programs

If you're using Windows 2000 or you could not remove an application with MSCONFIG, you should try removing the application manually. There are two methods for accomplishing this. The first and easiest involves the Startup folder. The second is a bit more complicated and involves the registry.

To remove files from the Startup folder, click "Start", then "All Programs" (or "Programs" in Windows 2000). Navigate to the "Startup" folder. Right click any entries you wish to delete, and choose "DELETE".




Basically, nothing in the Startup folder is essential to Windows running, so you should be safe with removing most of the entries that you don't want. You can drag the shortcuts to your Desktop as a temporary storage location while you reboot and check to see if anything is broken, too. Since the Startup folder is really limited in what it can delete, you should then check the registry to be sure you get rid of the rest of the junk you don't want.