Printer Tweak Guide (Page 2/4)


Posted: January 26, 2001
Written by: Dustin "TimmyC" Jones

Printer Properties

Fine tuning your printer properties for a specific (large or complicated) print job can help save time in printing, and it can use much less ink than necessary. Remember folks, ink is expensive! If you go to the Control Panel, then the Printers applet, choose properties. You'll be presented with a number of tabs, which will vary with the make and model of printer.

Depending on the type of printer you have, there will be a tab for graphics settings. This tab can be called all sorts of things, ranging from graphics, image, setup, etc. Find your graphics tab, as this will be a very important tool for you (I will explain why).



Even same brands (like these HPs) have very different tabs.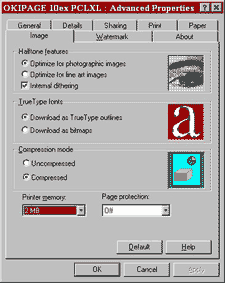 Left, a Canon BubbletJet. Right, Okidata.


In order to be more efficient, you should customize each print job you do that is different from the rest. If you're printing yourself some personal notes, an e-mail, or something else only for your own personal use, you should lower the quality settings to save ink and time. For a resume or essay, you should max the quality out, so your paper stands out that much more. This seems perfectly logical, but how many of you actually do it?
(Editor's note: Er, very good point.)

Low quality printing uses significantly less ink and prints much faster at a quality tradeoff. Itís perfect when you're printing something that doesn't need to be perfect. Maximum quality modes and medium modes use plenty more ink and take a lot longer.

When you go to print something, you'll be presented with a prompt screen to setup the printer beforehand. You can also access the printer properties from there, making it very easy to change your printer settings.