Posted: May 2nd, 2002
Written by: Tuan Huynh
---
---


Hardware Setup

AMD Athlon XP 2100+,

Abit MAX AT7,
Gigabyte 7VRXP,

2x 256 MB Corsair XMS2700,




Hercules 3D Prophet III Ti500,

Lite-On 52X,

Maxtor Diamond Max Plus 20 GB,

Antec True Power 400 Watt,

Common Software VIA 4in1 4.38 (A),

Detonator XP 23.11,

Windows XP Professional w/all updates,

Sysmark 2002,
Internet Content Creation,
Office Productivity,

SiSoft Sandra,
Memory Bandwidth,

Quake 3 Arena v1.30,
Demo Four 640x480 HQ,

3D Mark 2001SE,
Default,

The Test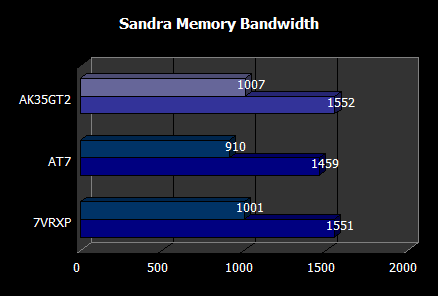 Here in SiSoft Sandra's Memory bandwidth benchmark, see the AK35GT2 pull out on top beating out both the 7VRXP and AT7 MAX in terms of memory bandwidth. Who would've thought Shuttle could beat out Abit eh?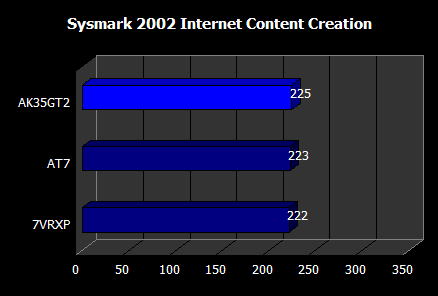 In Sysmark 2002 Internet Content Creation, we see the same results as we saw with the memory bandwidth tests. As Internet Content Creation thrives on memory bandwidth greatly, we see the AK35GT2 pull out on top 1% ahead of the AT7 and 7VRXP by nearly 2%.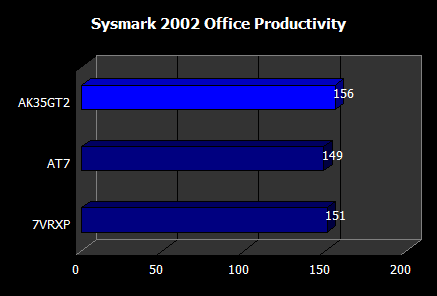 When it comes to Office Productivity, the AK35GT2 is clearly the winner, dominating the competitors. Compared to the AT7, the AK35GT2 beats it out by 4% and also pulls ahead of the 7VRXP by 3% as well.




When it comes to Quake 3 Arena Demo Four, we see the AK35GT2 lose its place as the dominate board. Here it falls behind the 7VRXP by a mere 2%, which isn't really even noticeable by the average user, and it also is able to beat the Abit by 3%.




When it comes to 3D Mark 2001SE, we see the AK35GT2 nicely pull behind the competitors by less then 1% respectively. Since 3D Mark 2001SE is mainly for bragging rights, a mere 50 marks doesn't really mean much.