Sapphire Radeon 9800 Pro Atlantis Ultimate Edition


Posted: July 25, 2003
Written By: Dan "Tweak Monkey" Kennedy
Manufacturer: Sapphire
---
---


Installation

Generally, video cards are a breeze to install. Upon seeing the massive width of the Sapphire Atlantis Ultimate Edition, I admit I initially cowered behind my keyboard. The card looks like a HumVee parked next to a Civic when compared to other video cards. It is big, intimidating, and looks expensive. It looks like something you would see on MTV's Cribs, near a Bentley 'on dubs' or an indoor basketball court.

Before I went into a total panic about its size, I decided to give it a shot and see if it would fit. I removed my case side-panel, removed the current card from my test system, and placed the Sapphire card firmly into its new home. It fit like a glove, which in this case isn't great news, but that's okay. Since it offers passive cooling, it probably does not need quite the pocket of air that is ideal with an active (fan) cooler.

The point is it did fit. It only covered one extra PCI slot, so I attached the power cable, screwed the card into the case, attached the VGA cable and was on my way.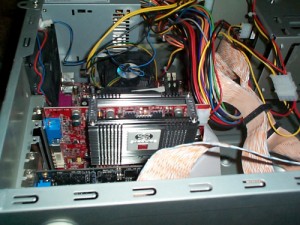 Hip, hip, hurrah! It fits!



The BIOS of my MSI test motherboard had no problem upon booting up, and very soon I was installing drivers in Windows XP Pro. I prepared myself for the excitement by clenching my arm rests firmly. Okay, so I wasn't that excited, but I was looking forward to testing this beast, since I have not reviewed a new video card for a while.



It barely clears the memory, but it fits!



An Upgrade to a Mid-End System?

Rather than be like every other site and benchmark this card vs. the fastest cards out there on insane CPUs that only exist in your dreams, we decided to use a mid-end system (P4 2.0 GHz) and a mid-end video card from a short while ago (GeForce3 Ti500) for testing purposes. This gives the 'Time to Upgrade?' question a thorough analysis and shows us how far video cards have come in the last couple of years. So, if you want to see benchmarks from the fastest hardware, sorry, we're going to disappoint you this time.

Test System:
Intel Pentium IV 2.0 GHz
MSI 6547 motherboard
256 MB DDR RAM
SB Live! Retail
Windows XP Professional, SP1, DirectX 9.0a
NVIDIA GeForce3 Ti500 Reference Card (Detonator driver v44.03 - 5/14/03)
Sapphire 9800 Pro Atlantis Ultimate Edition (Catalyst 3.6 driver v6.14.20.6368 - 7/15/03)

Test Software:
Quake III Arena (all details maximized, demo001)
Comanche 4 Demo (texture compression, hardware shaders)
3DMark 2003 (default options under demo)
All tests are run in 32bpp color mode with vsync disabled.