Review: Plextor UltraPlex Wide 40 (Page 2/5)


Posted: February 4, 2001
Written by: Tuan "Solace" Nguyen

Specifications

UltraWide SCSI Interface
Windows 95/98/2000/ME/NT, OS/2 Warp, SCO, Novell, Mac OS, Sun, Linux, Solaris, AS/400, RS-6000, HP-UX, Alpha/VAX
17X min/40X max throughput
8,590-RPM motor
Constant Angular Velocity
Double Bearing Auto Balancing Spindle motor
27X Drive rating
40MB/sec burst transfer rate
85ms average random read
512KB Buffer
Reads CD-RW (CD-ReWritable) media
Capable of high speed Digital Audio Extraction with "bit-by-bit" accuracy at 24X
Sub-Code output available
Windows Plug & Play compatible
Flash ROM allows for easy upgrade over the Internet
Two-year full warranty and unlimited Toll-Free Tech Support

The first thing that really strikes me is the type of interface this drive uses -- UltraWide SCSI. Utilizing this interface, the drive has the ability to burst 40MB of data per second, putting it in a class all by itself. What are the other added benefits? How about low CPU utilization and true Multitasking? Iíd definitely want those features in a drive I purchase. We all want the most for our money donít we?

One of the other shotgun features that this drive packs is a 85ms average random seek time rating. This is definitely a drive design for high performance. Considering all the above facts, this drive is squarely aimed at the highest-end user, or workstation and server user.

Our Test System

For testing, I decided to concoct a method of sheer stress in order to test the UltraPlexís abilities to perform. Hereís what I came up with: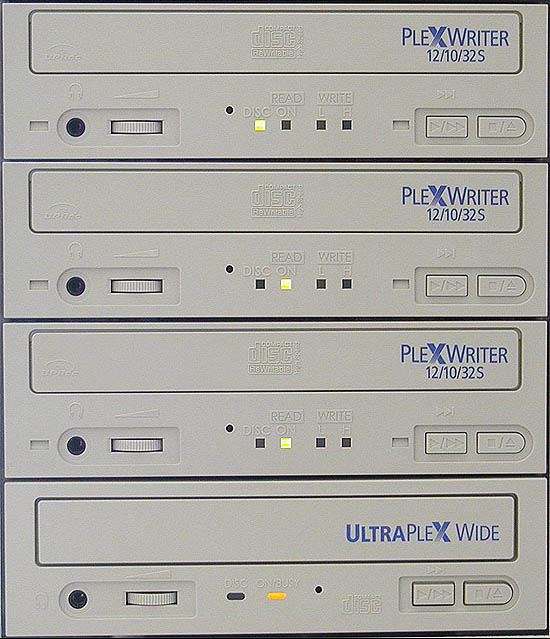 I think Iím either crazy, or Iím a real high-end user



I decided that a fine way to punish the drive was to make it serve data to 3 burners writing 3 CDís at the same time. Each burner is going to burn the same amount of data off the same CDís a 35 seconds apart from each other in order to cause the UltraPlex to do long seek strokes. BURN-Proof will also be turned off so we can see if the UltraPlex can keep up.

Outcome

Unfortunately after a few attempts, doing this was impossible. I used CDRWin to try to do this because it can load multiple instances and not lock all the burners even if only one of them is in use. However, any secondary attempt at accessing the UltraPlex yielded a nice SCSI error. Luckily I used only CD-RW discs rather than CD-Rís.

Then I thought about Padus' DiscJuggler software. I knew that DJ was designed to burn to multiple writers. I loaded it up, threw in a nice lengthy CD and let'er rip. Success! Talk about nice. I turned off all caching and let the UltraPlex dish out the megabytes on the fly, straight into the 3 other burners and the burns when without a hitch. I also turned off BURN-Proof just incase you are wondering if a buffer-underrun had indeed occur but I didn't notice.

For specific speed tests of the UltraPlex Wide itself, I had to rely on conventional testing methodologies.