Philips Rhythmic Edge 4.1 PCS703


Posted: October 12th, 2001
Written by: Davey "Daveyiv" McWatters

Installation

Installation of the Rhythmic Edge was just as a soundcard installation should be, simple. All I had to do was remove the drivers from my Sound Blaster Live!. I popped the Rhythmic Edge in, booted the pc, it found new hardware and installed the drivers off the cd then boom! It was ready to play my tunes. I installed it under Windows 2000 and Windows XP both giving me no problems whatsoever.

Drivers




The utilities tab for the Rhythmic Edge drivers is fairly useful. It gives you quite a few shortcuts to different programs/controls applets for your multimedia. I find myself using them quite often because itís easier to just open this then go to the utility I want instead of going through control panel, start menu, or wherever the utility may be.



The settings tab, in my opinion, is the most useful tab of all. It contains all of your volume and balance/fade settings. It also lets you choose your speaker setup whether you are an active LAN partier and use headphones or have a 2 or 4 speaker setup you can change it in the settings tab. As you can see in the above picture there is a option called Qxpander under the 2 speakers option. This is a pretty nice option, it allows for better sound on a 2 speaker setup. It is a special algorithm used by Philips new soundcards that virtually widens the sound field coming out the left and right of your 2 speaker setup. It really does work, if you have only 2 speakers I recommend turning it on to see how you like it. The DVD Qsurround option creates a virtual 5.1 sound out of a stereo setup. It actually does a very good job coming out of 2 speakers. It does not sound exactly like a true 5.1 speaker setup but coming from 2 speakers it makes for a much greater sound from many DVD titles.




The S/PDIF tab allows you to connect and adjust speakers which use the S/PDIF interface. S/PDIF is a digital interface designed so your sound doesnít have to be converted from digital to analog and back to digital. This is supposed to help decrease signal degradation to your speakers which would improve sound quality.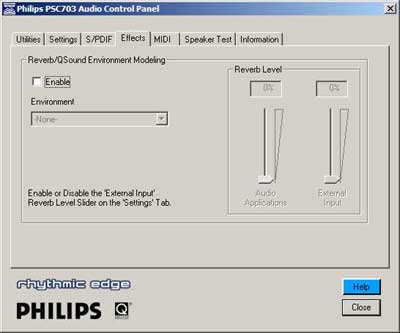 The effects tab, for me, is one of the least useful tabs of all. It allows you to add special effects to your music, games, or movies. Some of the effects are things like alley, forest, and underwater. It also has an option for you to adjust the level of reverb you wish to add to your sound. I never use this feature myself, but some people may have need for it so itís nice to have for them.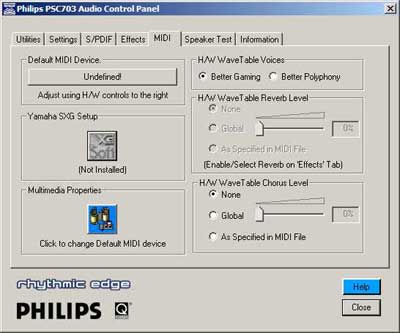 The MIDI tab houses all of your controls for your MIDI (Musical Instrument Digital Interface) audio files. You can adjust your reverb and chorus levels inside this tab as well.




The Speaker Test tab is pretty useful in diagnosing your speaker connections to make sure there connected properly. It allows you to play a sound and it will play it in all of your different speakers. If there connected properly the right channel will play on your right speaker and your left channel will play on your left speaker. I've seen many people have their speakers connected backwards, this just helps you overcome that problem.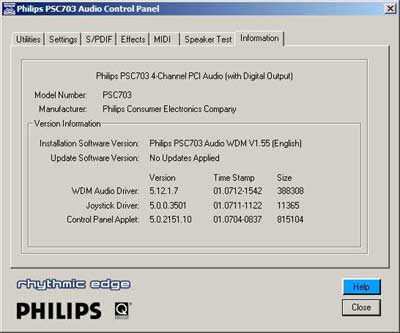 The information tab just tells you information like the cards model number, manufacturer, and it also gives you all of the driver versions and the such that are currently applied.