Posted: May 6, 2002
Written by: Davey McWatters

Stealth Card Cooler


---


Installation

Installing the cooler was easy. All that is required is to remove two screws from your expansion slot covers and replace them with the card cooler in place. After the screws have been replaces simply plug it in and that is all there is to it. It is a very small unit, so it should fit in just about any small to mid size PC case.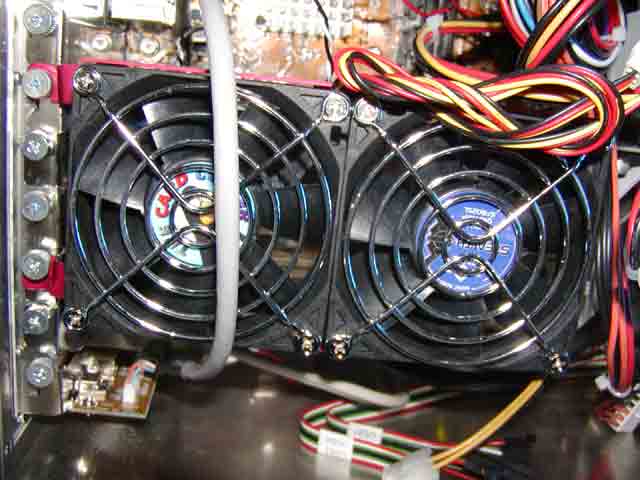 Performance

The Stealth Card Cooler, like other Card Coolers, is designed to keep not only your cards cool, but keep air moving about your entire case as well. It is not designed to necessarily lower your temperatures, but is more to keep the air inside your case moving. It will eliminate many pockets of dead air that are around your expansion cards and motherboard. Having air moving across video card will give you more room to overclock and gain extra performance.


| | |
| --- | --- |
| Fan Size | 80x80x25mm |
| Voltage | 12v |
| Rated Current | .010 amp |
| Airflow | 27 cfm |
| Noise Rating | 21dba |
| Fan Speed | 2050 rpm |
| Connector Type | 3 pin Molex |


Above are the specs of the Vantec Stealth fans used on the cooler. Keep in mind that they are the specs for a single fan, while the cooler uses two of these fans. They are of the quietest fans that I have ever had inside my case. I hardly notice any difference in the noise from my case. The latest fad seems to be having an extremely quiet case, and the Stealth Card Cooler does offer great performance and adds very little additional noise to your case.





The temperatures of neither the ambient case temperature nor the CPU temperature were affected at all by the cooler. I was able to overclock my graphics card RAM 15Mhz more than I was able to achieve before I installed the cooler. Addition of ramsinks to the graphics card will also allow you to overclock even further with the help of the cooler.

Conclusion

The Card Cooler has created yet another fine product. With the addition of the Vantec Stealth fans, they are able to achieve great performance while nearly eliminating added noise to your computer. Maybe soon we will see a 120mm version of Vantecís Stealth fans, and The Card Cooler can offer a Stealth Card Cooler XT for people with larger cases. But for the mid-size case the Stealth Card Cooler does a great job at keeping your cards cool.

As usual, The Card Cooler has offered a great way to power the device. They give you all the adaptors needed to connect it to a single Molex connector, and they even provide a bypass to keep their product from using up a Molex. For users with cheaper power supplies they are more than likely to only have five or six Molex connectors, so you have to use them sparingly.

At the price of only $25, you can have The Stealth Card Cooler. The fans alone cost $12.50 a piece; so, they are giving you the rails free. The very competitive price makes this cooler very attractive for someone trying to get the best performance from their video card and keep their other cards cool at the same time.

If you are in the market for extra cooling for your case, you should defiantly take a look at the Stealth Card Cooler. It will offer great performance at a very nice price and add wery little additional sound to your PC. Again, we are very pleased with the performance from The Card Coolerss latest Card Cooler in production. Great job guys, keep up the good work.

Pros:
Great Performance
Very Quiet
Great Price
Cons:
Red rails can look pink in certain lighting


Overall: 9/10