Lian-Li PC60 Modified By The Card Cooler


Posted: January 23th, 2002
Written by: Davey McWatters

Lian-Li PC60 Modified By The Card Cooler


---
---


Here is a picture of the motherboard tray with all the components installed prior to being re-inserted into the case. As you can see, all of the components install and look very clean on the tray. They fit perfectly and make it very easy for you to re-install the tray into the case.




After installing all of your components onto the motherboard tray you simple slide it into the case. Then you are ready to plug up your IDE and power connectors and your set. Again, the motherboard tray needs no tools to be removed since it uses an all thumbscrew design.




Above is a picture of all the components installed and plugged it. If you will notice the white strip along the back of the 5¼" drive bay, which is for your protection. If you are one of the people that gets scraped by the sharp edges inside your cases every time you take it apart Lian-Li knows how you feel. They have included the plastic strip that covers the sharp corners that are most likely to cut you.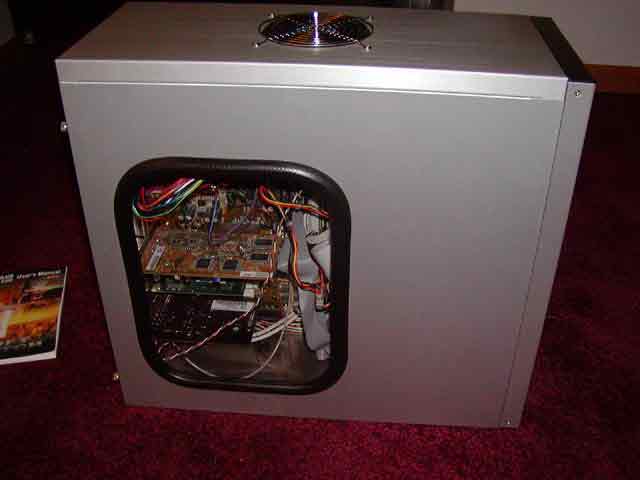 The window kit installed by The Card Cooler is quite nice. They have positioned it in a very appropriate place to allow you to see the motherboard and add-in cards but keep away from the messy cables in the front of the case as much as possible. The only thing I can complain about is the molding. It seems rather large but it still looks nice. It feels secure in its place and doesn't feel like it is going to come popping off the side of the case.




Above is a picture of the case in use. As you can see, Lian-Li has included a blue power LED. The hard drive activity LED is red. They look very nice together. The LED's are also extremely bright, if you sleep with your computer on it looks like someone is shining a blue flashlight across your room. I prefer bright LEDs to dim ones though so I really like the Lian-Li setup.