Review: Leadtek WinFast GeForce3 TD (Page 2/10)


Posted: May 6, 2001
Written by: Tuan "Solace" Nguyen

Leadtek WinFast GeForce3

Today, Leadtek steps up to the stage and shows off its WinFast GeForce3 TD. Those of you who have read my reviews on Leadtekís GeForce2 cards, know that Leadtek provides exceptional performance and value for lower price points than its competitors. I have noticed that they continually add extra features such as error detection, hardware monitoring, and other features to its boards that arenít found elsewhere.

Leadtekís GeForce3 continues the same value added trend that weíve seen on its GeForce3 boards. Letís take a look at what Leadtek has to offer:

Specs

Third Generation NVIDIA GeForce3 nFiniteFX GPU
On Board 64MB -4ns DDR Memory
LightSpeed Memory Architecture
3.2 billion AA samples per sec fill rate
7.36GB/sec memory bandwidth
High-Performance Hardware Anti-Aliasing
350 MHz RAMDAC
DVD software included
AGP 4X/2X, AGP texturing and Fast Write supports
Microsoft DirectX 8 and OpenGL 1.2 Optimizations and support
Programmable Vertex Shader
on-board DVI-I support
Second Generation Integrated Transform and Lighting (T&L) Engines
Drivers Support for Win 9X, Win ME, Win NT4, Win2K
Leadtek WinFox system utility

Leadtek Value-Added features
64MB 4ns Memory onboard
Support TV-out
Special Designed Active Cooling Module for GPU and Memory
On board DVI-I connector
Leadtek packs the fastest DDR RAM onto its GeForce3 board and we all know what that gives us -- overclocking finesse. So far, all the GeForce3 cards that have been released on store shelves, only the Leadtek comes with Digital flat panel output. The Visiontek only ships with basic TV output.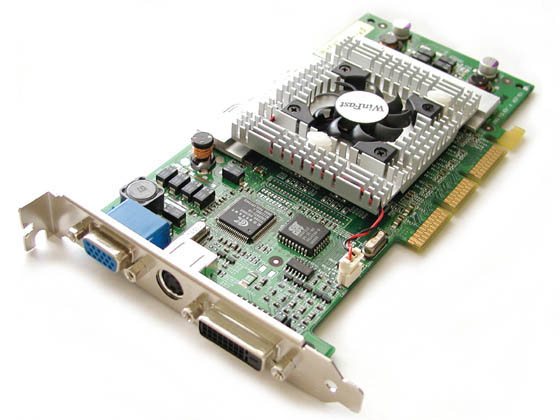 What a beauty! Okay I need to get out more.


One of the noticeable things that Leadtek has done with its graphics cards is include large heatsinks to its cards. Underneath the heatsink is a temperature sensor that actively monitors the core temperature. One thing I found missing were the diagnostic lights that Leadtek used on its Enhanced GeForce2 GTS board. The 3 LEDs provided information on errors and what were causing the errors and also what AGP mode the card is operating in. Hopefully Leadtek will bring these features back at no cost to the buyer.

Thereís something cool thatís coming up that I think you all should be informed about. All this time, TV output on graphics cards have been limited to a maximum resolution of 800x600. However, Leadtek has included a new Conexant video encoder that can output to 1024x768 with an upcoming driver update.



1024x768 TV resolution is now possible


Iíve taken a brief look at Visiontekís GeForce3 offering but it uses an older Conexant encoder that can only do 800x600. I think Leadtek is on the right step on providing higher resolution output for TV. Besides, why would you purchase a GeForce3 only to play at 800x600 right? With 1024x768 and Quincunx Anti Aliasing, images should look superb on your TV thanks to Leadtekís choice of encoders. The new encoder is also only about a dollar more expensive than the old one so Iím curious as to why Visiontek didnít go the same route Leadtek did. Thumbs up to Leadtek for supporting 1024x768 TV resolution output.

Letís get onto some numbers.