Review: Leadtek Enhanced WinFast GTS 64MB (Page 2/5)


Posted: January 17, 2001
Written by: Tuan "Solace" Nguyen

Specifications

- NVIDIA GeForce 2 GTS GPU
- 256-bit graphics engine
- 200MHz core/166MHz memory clock (effectively 333MHz)
- 25 million triangles/sec
- 800 Mpixels/s fill rate
- 1.6GTexels/sec fill rate
- 5.3GB/sec Memory bandwidth
- Hardware Anti-Aliasing
- 32-bit colors, Z/stencil buffer
- 350MHz RAMDAC
- Max Resolution 2048x1536
- 64MB 5.5ns DDRSRAM
- AGP 2X/4X including fast writes and execute mode
- DirectX texture compression
- S3TC support
- Windows 9x/NT/2000 compatible




We have all the standard GeForce2 GTS specifications with a bit of tweaking done on the choice of memory. Leadtek chooses to go with Samsung 5.5ns DDR SDRAM for this board. Considering that we managed to overclock other GTS boards by up to 25MHz just in memory alone, we're hoping this board will go a little further.

Component Choices

I received two Enhanced cards from Leadtek, one was green and one was yellow. Although both were labeled as being the same board revisions, there were components that were clearly different. Here's what I'm talking about: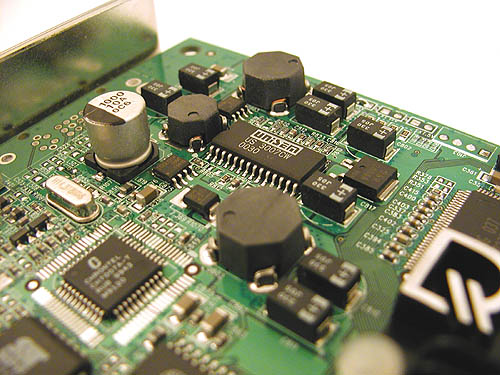 The First Board

The Second Board



The components used on the second board seem to offer a sharper image -- it could be that or something else, but nevertheless, the yellow board seems to be the better of the two.

If you read my review on the Elsa Gladiac Ultra, you will remember a similar case in components. For some reason, boards with those hexagonal components seem to produce images that are not as sharp as the circular ones. Perhaps this is due to quality or component revisions.