Intel Desktop Board Examination


Posted: March 13th, 2002
Written by: Tuan Huynh
---
---


Intel D845BG

Second on the grille is Intelís D845BG board based upon their i845D DDR supporting chipset with support for up to 2GB of PC1600/PC2100 memory.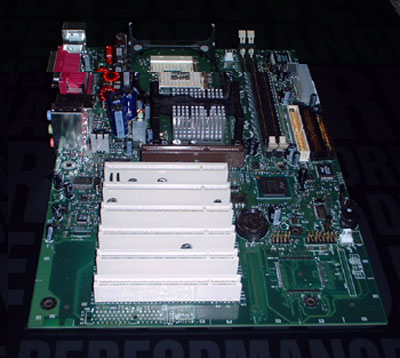 Differentiating itself from the D850MV, the D845BG uses a smaller PCB. As for expansion, since the D845BG I received did not have a CNR slot, there are 6 PCI slots, which is more then the average main board. As for expansion, it has a 4X AGP slot keyed so you donít install your old 5 volt AGP cards. Since the i845D is limited to a maximum of 2GB of memory, there are only 2 DIMM slots. Atop the north bridge, the D845BG uses the same heat sink found on the D850MV.




The back panel of the D845BG is very similar to the D850MV-SE, with the exception of the USB1.1 ports, a missing Com 2, and integrated Ethernet. Since the D845BG I received didnít have the USB 2.0 option, there are 4 USB ports onboard, with the ability to add 2 more, totaling 6 USB 1.1 ports all together. As for the missing Com 2 port, it is taken off the back to be routed for a front panel connector, much like the ones HP Pavilionís used to have.