Posted: May 20th, 2002
Written by: Tuan Huynh
---
---
Intel Extreme Graphics Specifications
Rapid Pixel and Texel Rendering Architecture (RPTR)
Dynamic Video Memory Technology (DVMT)
Zone Rendering Technology (ZR)
Intelligent Memory Management Technology
3D Features
200 MHz Core
Hi-Performance 3D
Multi-texture for creating light maps, atmospheric effects, etc.
Non-Power of 2 textures for desktop compositing and video editing
2Kx2K texture enables desktop size textures
Cube reflection textures enables environment specular reflections, etc.
Render to Texture allows auto generation of textures on the fly
DOT3 Bump-Mapping models realistic surface details
Destination Alpha Blend for realistic effects (i.e. force fields, flames, plasma, beams, etc.)
Point Sprites for atmospheric effects, such as, snow-fall, etc.
Per Pixel Fog capability enables Depth Cueing or hidden objects
Full Open GL 1.3 support for compressed textures, cubic map textures, texture DOT3 environment mode and multi-textures
2D Features
Alpha Stretch BLTs for transparent desktop Direct Draw surfaces
Hardware Alpha Blended RGB Cursor for higher quality and performance cursor
Color Space Conversion for better Video Compositing
Faster Hardware Motion Compensation Engine provides flicker-free DVD playback
Alpha Blended Sub-picture support enables softer effect for captions and subtitles
5x2 Overlay supports smooth scaling of DVD playback
Anisotropic Filtering for high quality views of oblique surfaces
Rotate, Scale, and Translate Ops used for GDI+ operations
Anti-Aliased Text removes jaggies and smoothens out text
Display Capability
350 MHz Integrated 24-bit RAMDAC
Up to QXGA Resolutions for analog monitor and digital displays
Multiple Display Types LVDS/DVI/TV-Out/CRT/Combo
ADD Card support enables Digital Display Upgrade
Independent Overlay Gamma Correction Compensates for Color Intensity Loss
DDC2B Compliant Interface
Synchronous Dual display support for driving analog VGA and digital display simultaneously
The 3D support for the i845G is pretty basic and nothing fancy and clocks in at 200 MHz core. With support for full Open GL 1.3, the i845G looks to aim towards cheap rendering woskstations. One thing lacking on the i845G is the lack of a hardware transform and lighting engine, this will cause a major impact on newer games as they perform poorly without a T&L engine.

As for 2D features, the i845G features the standard features that most graphics cards have, but the added hardware compensation looks to be interesting, we'll talk more about that feature later on this article with benchmarks as well.

Rapid Pixel and Texel Rendering (RPTR)

Though not much info on this feature has been released, I'll try my best to summarize it. Rapid Pixel and Texel Rendering is a feature very similar to ATI's Hyper Z architecture. This mainly allows the graphics core to render 4 textures per pass as well as DXTN and FXT1 decompression, which reduces the amount of memory required for texture storage. Like I stated earlier, I tried my best to summarize Rapid Pixel and Texel Rendering, but just by reading the limited available info in the white papers, there's not much that can be explained by it.

Dynamic Video Memory Technology (DVMT)

DVMT is a fairly new technology found in integrated graphics as I haven't seen it before. The technology works quite interestingly, rather then having up to a 64MB SMA frame buffer; the i845G only has 8MB dedicated for a frame buffer. This is where DVMT kicks in, when the game or application requires more video memory, the program submits its request to the video driver, and then the video driver submits the request to the OS, if memory resources are available, the driver will allocate more memory to the onboard graphics. When a system has 128 MB of overall memory, the driver can support up to 48MB of dynamic memory, when your system has 256MB or more, the driver can support up to 64MB of dynamic video memory.

This makes much more sense then having a permanent 32 or 64MB frame buffer as the frame buffer is not always being used, but having it available on the fly when needed will allow the system to have more available resources for your everyday applications.

Zone Rendering Technology (ZR)

Zone Rendering Technology is Intel's version of STM Micro's Tile based rendering idea. Pretty much Zone Rendering technology renders everything in triangles much like the Kyro did. This requires less memory bandwidth to render each scene, which is good since there isn't much memory bandwidth available when it comes to SMA. Intel refers to their Zone Rendering technology as "Tile based rendering done right," we'll find more on that later in the article.

ADD Card

ADD cards are simply upgrades just add in cards that work in similar fashion to CNR cards. The ADD cards allow users to add DVI and/or TV out to i845G boards via the AGP slot. Here are some examples of the cards.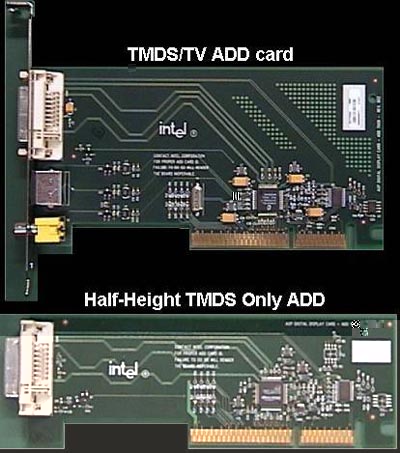 ICH4
6 USB 2.0 ports with Enhanced Host Controller Interface (EHCI)
All ports support USB 2.0 and USB 1.1 Protocols
Intelligent switching provides seamless support
Advanced Audio
20-bit Audio Controller Interface (AC '97)
Support for 3 codec's for easy upgrade to 6 channel audio and/or modem support
Dual DMA engines for simultaneous support of PCM and S/PDIF outputs


The ICH4 is Intel's long awaited updated south bridge to their age old ICH2 that features a few needed updates. Though still no support for ATA133 from Intel, the ICH4 finally embeds USB 2.0, being the second south bridge to integrated USB 2.0. The onboard controller allows up to 6 USB 2.0 ports that support up to 480 Mbps data transfer.

There's also support for 20-Bit AC'97 audio codec, which is provided by an Analog Devices AD1981A which fully supports 20-bit audio. We'll talk more about the onboard audio as well as Sound Max once again.