Hercules 3D Prophet 4500 Review (Page 3/10)


Posted: June 22, 2001
Written by: Dustin Jones

The 3D Prophet Is Here... (cont.)

Following the current trend of pretty looking PCB's, the 3D Prophet 4500 comes in a stylish blue colour similar to the GeForce 3 based 3D Prophet III, complete with a colour matching HSF for the core, which looks like the famous Blue Orb, but more on that later. Coloured PCB's aren't all that important to me, but the card did look really nice when I pulled it out of the anti-static bag.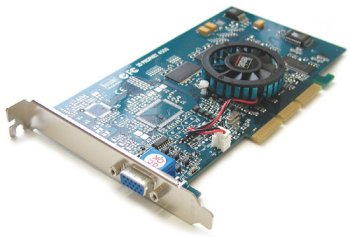 Installation & Setup & More

There really isn't much to say here. Installing a video card is very simple. I shut off the computer, popped the old video card out, put the Prophet 4500 in, turned the system on, installed the drivers, rebooted and I was ready to go. If you're new to installing hardware, please refer to our How-To guides.

Drivers

The CD-included drivers were slightly out-dated, so I opted to try the latest PowerVR reference drivers instead. Not to worry, the Hercules drivers are nearly exactly the same as the PowerVR drivers, so what you see is what you get in this case. The driver tools themselves feature the regular monitor tweaking tools, to adjust location and gamma and what-have-you. There is also a 3D Optimization section, with some nice tweaking options for both Direct3D and OpenGL, including FSAA settings. Sadly, there are no overclocking options, and I haven't heard of any plans to add one in a later build.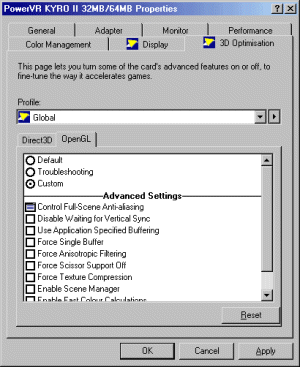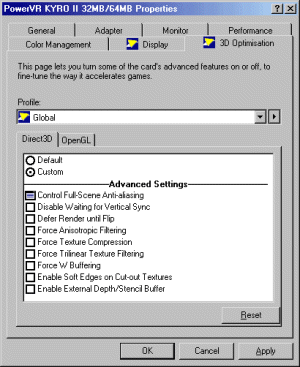 Unfortunately, at the time of writing, many features in the drivers were broken. In OpenGL, both Anisotropic filtering and texture compression would not work correctly, with texture compression yielding strange texture deformations and errors. Not to worry, if the game supports texture compression, - Quake III for example - texture compression will still work for that game. Anisotropic filtering in Direct3D also does not work correctly. I was informed by a representative at PowerVR that these issues will be fixed in the next driver release; but we'll have to see what happens.

Image Quality

In all honesty, the better looking the game is, the more enjoyable it is to play. Hopefully most people will agree that image quality on a video card is a more important aspect than speed. This isn't to say that the card should look amazing and be slow, but personally, a vibrant, crisp image is worth playing in 35 frames per second. With that being said, PowerVR must be commended on making both the 2D and 3D quality of the Kyro II simply outstanding. After using NVidia cards for a very long time, it was a welcome feast to my eyes to gaze upon crisp and flawless 2D in my typical desktop usage and best of all, vibrant colours and crisp images in my games. However, the filtering in most games wasn't as clear as my GeForce 2, and Anisotropic filtering wasn't working correctly in OpenGL because of the drivers. While no card can match the ATI Radeon in overall image quality, due to its 128-tap Anisotropic filtering, the Kyro II still does look great, despite the flawed filtering.