Guillemot Maxi Gamer Xentor32 (Page 2/4)


Posted: August 16, 1999
Written by: tapped
MSRP: $199.99 (after $30.00 rebate)
Company website: www.guillemot.com

Where's the Silicon?

Ah... The crux of the review. The card itself looks to be built quite well, sporting a clean, simple layout of components on a quality PCB. Atop the TNT2 Ultra chip is an HSF unit (heatsink/fan combo), held on via rubber pushpins and (get this!) interfaced using a thin, even layer of heatsink compound... *GASP* Finally, a company has done it right!

Inspecting the HSF closely, there's no doubt that it'll do what it's supposed to do, which is keep the chip cool (@ 175MHz), but overclocking is another story (read on). The HSF gets its power from the card via a two-pin connector. This is a good thing; should the fan cease to function or should you choose to try a different fan, simply unplug the unit, pop out the pushpins, and slap on a new one (don't forget the compound!).

The board's 32MB of SDRAM are arranged in two sets of eight 2MB modules - one set on the topside of the card and a second set on the other. The modules bear a company logo with which I'm not familiar; nonetheless, they're rated at a zippy 5.5 nanoseconds, meaning that, theoretically, they're good for 183MHz - the standard TNT2 Ultra fair....

Giddy Up!

So how does a Centaur respond to a mild spanking? Well, in all honesty, as the card is clocked beyond the TNT2 Ultra spec by default, there's not much room left for the pony to run. Of course, some pastures are more expansive than others. In plain English: Not all chips (and therefore, cards) are equally overclockable. The particular Xentor 32 reviewed here is a mixed bag in terms of overclockability: It runs flawlessly through 4 hours of 3DMark 99 Max at 190/200, but the same settings cause artifacts in Quake 3 Test, and Quake II sometimes crashes when first started. For all-around stability, 185/190 seems to be the sweet spot for this particular board.

Installation

Installation of the Xentor 32 gave me no trouble at all. I simply switched to Standard PCI Graphics Adapter (VGA), shut down, swapped my TNT for the Xentor 32, rebooted and that was it. Windows detected the TNT2, installed the drivers and a reboot later, I was good to go.

Of course, it was a best-case scenario, as I'd had NVIDIA's 2.08 drivers installed to begin with. To do this review, I did a format c:/s and installed the card from scratch, which also went smoothly. In fact, it was the smoothest, most convenient driver install I've ever done. As I've mentioned, it's an automated process, so... if you can double-click on an icon, you can install the Xentor 32 drivers - no problem.

Performance

Now that I've gone through the manual, poked around the CD-ROMs, discussed the drivers, and given the board itself a once-over, only one major point remains. After all, no video card review would be complete without performance numbers, right? Well, fret not. Numbers you shall have. Remember that benchmarks are synthetic, meaning they don't accurately reflect the performance a user will typically see in the real world; nonetheless, they can still be used to assess a video card's potential and general performance... so without further ado...

Test System:
Intel Celeron 300A @ 450MHz
Abit BH6
192MB Samsung GH (CAS2) SDRAM
4.3GB Fujitsu UDMA HD
Guillemot Maxi Gamer Xentor 32 (bios 2.05) w/ Guillemot 2.08 drivers
Creative Labs' ENSONIQ AudioPCI
3Com US Robotics 56k X2 ISA modem
Realtek 10/100Mb PCI Ethernet adapter
17" Mag Innovision DX700-T Trinitron monitor
Test Conditions:
Clean install of Windows 98
Installed DirectX 6.1
Installed all device drivers
Installed applications
Benchmarks Used:
3DMark 99 Max - for testing Direct3D performance
Quake 2 (v. 3.20) - for testing OpenGL performance
Quake 3 Test (v. 1.08) - for testing OpenGL performance


3DMark 99 Max

3DMark 99 Max gives can give a video card a good workout. This makes it a handy tool for determining the limitations of a video card with regards to stability (especially when overclocking). I ran the card through two different batch runs. The first batch was run in 640x480, 800x600, and 1024x768, all in 16-bit color. The second run was performed in the same resolutions, except 32-bit color and a 24-bit Z-buffer were used. Triple buffering was selected for both runs, as well.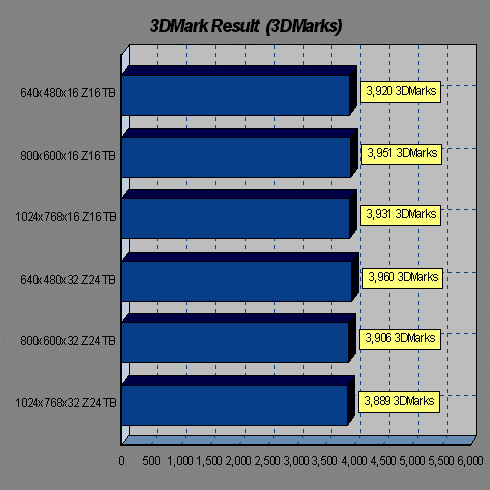 In addition to the above chart, you can download the actual database file, generated by 3DMark 99 Max. (You'll need 3DMark 99 to browse the database.) Click here to download.

While I was running these benchmarks, what really stood out to me was how much faster the Xentor 32 was, compared to my TNT. While it may not be a quantum leap in performance, the difference in performance was apparent without having to see the results. I just sat there watching in amazement at the ease with which this card ran through the tests.



[ Search for the lowest Prices of this Product! ]