Review: Global WIN CAK38 Heatsink (Page 3/3)


Posted: May 4th, 2001
Written by: Tuan "Solace" Nguyen

Performance

Test System

AMD Thunderbird Athlon 1.33GHz
Asus A7V133 with 1004 BIOS

Environmnt: Not enclosed.
Motherboard temperature: 29C
Ambient Temperature: 20C

Global WIN CAK38 with single Delta 38CFM, 7000RPM fan
Alpha PEP66T with single Delta low profile, 5000RPM fan
Alpha PEP66T with dual Delta low profile, 5000RPM fan
Alpha PAL6035 with Delta 38CFM, 7000RPM fan
Vantec FCE-6254OD with Delta 38CFM, 7000RPM fan

Heatsink compound: Arctic Silver 2

Windows 2000 Professional SP1 -- idle load

Test Results
Here are the results from testing: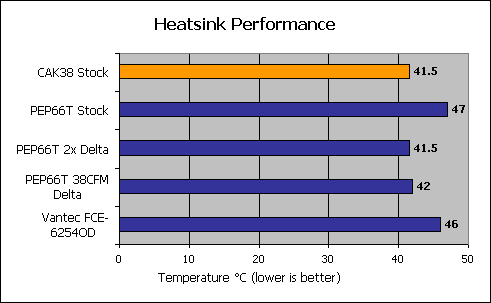 The CAK38 performs very well! Itís less expensive than the Kaine Hedgehog but offers excellent performance. It nearly beat my souped up PEP66T with dual Delta fans.

Conclusion

The CAK38 is another great addition to Global WINís line of heatsinks. One of Global WINís most famous heatsinks is its FOP38, which uses the same fan as the CAK38, except that itís all aluminum. The CAK38 extends beyond the FOP38 to offer an extra mile of cooling efficiency thanks to the use of copper. Pairing the CAK38 with a high performance heatsink like the 38CFM Delta is definitely a pair to be reckoned with.

Since the CAK38 is all copper and conducts very well, you might also want to try installing a less powerful, but less noisy fan onto the CAK38. Mix and match your combinations to find one that offers you the cooling you need, at an acceptable noise level.

The CAK38 has everything going for it except its weight. However, I found that the retention clip on the CAK38 is quite strong and will hold the heatsink firmly against your processor. Be sure to use some good heatsink compound and you should be set to go.

I recommend the CAK38 to all those using processors running above 1.1GHz and for those considering overclocking beyond 1.1GHz. Those of you with AXIA type Thunderbird processors should take a look at the CAK38 as well.



Overall Rating: [ 9.2 / 10.0 ]



Thanks go out to The Heatsink Factory for providing the CAK38.




I just surfed by their website and noticed a whole slew of new cooling devices that have stocked up. Things from fan controllers, new high performance heatsink, rounded IDE cables and peltier coolers are all in stock.