eVGA GeForce 4 MX440 Review


Posted: May 9th, 2002
Written by: Tuan Huynh
---
---
Features Continued...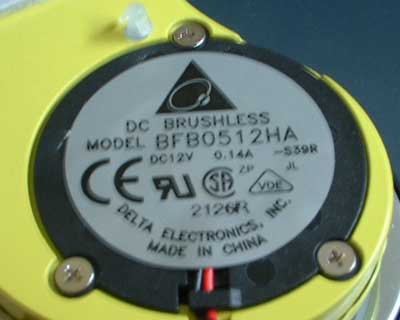 Flipping the unit around youíll notice the fan is made by Delta electronics, whichíve been known for their Delta 60 fans that run relatively loud but push a lot of CFM. The fan isnít too loud, though you can still hear it, nothing a few Sunon High Output 80MM fans canít drown out.




Unlike some companies who just use frag tape to keep the HSF on, eVGA uses the plastic push pins and some silicon thermal paste to transfer heat. Kudos goes to eVGA for using thermal compound instead of frag tape. Under the thermal compound, which Iíve whipped off lays the NVIDIA NV17 GPU, unlike the GeForce 2 MX predecessors, the GPU on the MX440 doesnít seem to be labeled as an MX440 but only an NV17. This is probably because all the GeForce 4 MXís use the same GPU with no deformities in the core, but the MX420, MX440, and MX460 just use a different type of memory.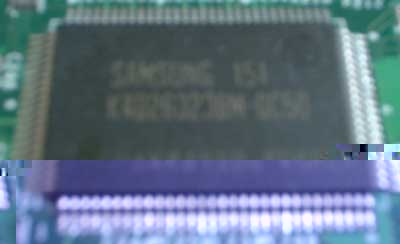 Like the majority of the GeForce 4 cards, the eVGA MX440 uses 64MB of Samsung 128Mbit DDR SDRAM rated at 5 NS. Though the ram isnít anything special, it works and overclocks pretty well.




As for the software bundle, the eVGA comes with a nice software bundle. Though it doesnít come with any old games, it does come with Power DVD XP, which is one of the best software DVD players available. It also comes with a driver CD with their ADM auto driver install utility, which I didnít bother testing, as I just used the NVIDIA Detonator 28.11ís. For those of you who like case badges, the card also comes with eVGA case badges for sticking onto your case and showing off your graphics card. Lastly it also comes with a manual, but who likes at manuals these days?

Hardware Setup
Athlon XP1800+,
Gigabyte 7VTXH+ (KT266A),
256MB Corsair XMS2400,
eVGA GeForce 4 MX440,
Abit Siluro Ti200 128MB,
Western Digital Caviar 13GB ATA66 5400RPM,
Hitachi 12x DVD-Rom,
Common Software
Windows XP Professional w/all updates,
NVIDIA Detonator 28.11,
VIA 4in1 4.38(A),
Benchmark Setup
3D Mark 2001SE,
1024x768 Default,
Quake 3 Arena HQ,
1024x768,
1280x1024,
1600x1200,
Serious Sam 2,
Grand Cathedral,
1024x768,
1280x1024,
1600x1200,
GL eXcess,
1024x768,
1280x1024,
1600x1200,
Return to Castle Wolfenstein,
ATDemo8,
1024x768,
1280x1024,
1600x1200,
3D Mark 2001 SE,
Overclocked Results,