Compex Wireless Networking Lineup (802.11b)


Posted: July 22, 2003
Written By: Dan "Tweak Monkey" Kennedy
Supplied By: Compex
---
---

iWavePort WL11A+ Wireless LAN Card

Ah, a pretty package. But how well does it work?



Upon seeing the iWavePort WL11A+, I was instantly impressed. Unlike my old wireless cards, the package contained a plastic carrying case that would stuff nicely into my notebook bag for trips, and the card looked and felt like a very high quality piece of hardware.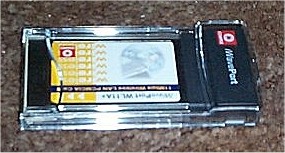 Every PCMCIA card should include a case like this.



The card looked like most others, with a Link and Activity light. It had an internal antenna and an expansion port for the external antenna offered by Compex.

Features of the Card

WL11A+ 11Mbps 802.11b Enhanced Wireless PCMCIA LAN Card

Type: PCMCIA Wireless LAN Adapter
Industry Standard: IEEE802.11b
Frequency Band: 2.4GHz ISM
Frequency Technology: Direct Sequence Spread Spectrum (DSSS)
Media Access Method: CSMA/CA
Transmission Rate: 11Mbps
Supported Architecture: Infrastructure & AdHoc
Interface: PCMICA Type II
WEP: 64 & 128 Bit
MC-Card Connector: Yes
Warranty: 3 Years

MSRP: $59.95

Product Description:

Compex iWavePort WL11A+ is a PCMCIA Wireless Card utilizing the 2.4GHz ISM band for 11Mbps wireless communication. It supports Ad-hoc and Infrastructure wireless mode with 64 or 128-bit private encryption for secured transmission. Compex iWavePort WL11A+ is equipped with a built-in connector that connects to an external antenna for wider wireless network coverage. Compex iWavePort WL11A+ is a fully Plug-N-Play device that can easily be installed in any PCMCIA card slot of a notebook. Compex iWavePort WL11A+ is an ideal solution for mobile users.

Performance and Analysis





The card looked right in my Inspiron 5100 and installed without a hitch.



To install the WL11A+, I ran the included driver software, then installed the card into my PCMCIA slot. Seconds later, I had an 11Mbps network connection and the ability to move anywhere in my apartment without losing signal. No configuration was needed to get connected. I simply installed the driver and card.

Immediately I recognized the strong points of this card. The signal strength was stellar in any situation. Even with my notebook on low battery power, in the furthest, darkest corner of my residence, I was able to play Subspace with a sub-100ms ping and 0.1% packetloss. Incredible.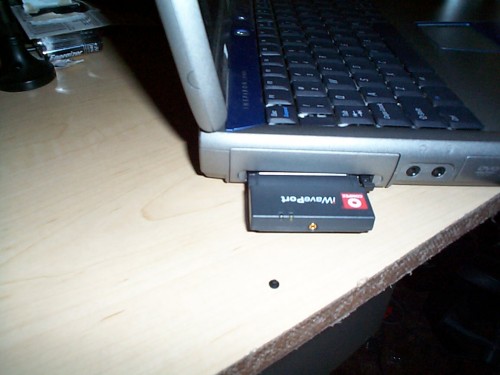 Remove the plug to install the antenna - just don't lose it.



I tried going outside but lost my signal. I also tried closing all the doors (even the room that housed the access point) and the signal was weakened considerably. At this point, I decided to give the antenna a shot. When you remove the plastic plug that covers the antenna's port, the tiny plug is easy to lose. Be careful to place it somewhere you won't lose it.

Features of the Antenna

WA-HGA-5+ High Gain Desktop Indoor Range Extender Antenna

Type: Wireless High Gain Antenna
Frequency Band: 2.4Ghz
Antenna Gain: 5 dBi
Polarization: Vertical
Direction: Omni Directional
Impedance: 50 ohms nominal
Connector Type: MC-Card Connector
Optional Part For: WL11A+, WP11A+, SKW811
Warranty : 1 Year

MSRP: $49.95

Product Description:

The Compex iWavePort Indoor Range Extender, WA-HGA-5+ is an indoor antenna that extends the wireless coverage when used together with Compex NetPassage WP11A+ or Compex iWavePort 11Mbps PCMCIA LAN card, WL11A+. Its enhanced performance allows transmitting and receiving of up to 11Mbps, with much wider coverage than integrated antennas of PC cards, especially when the integrated antenna of the PC card or Access Point is concealed or shielded. WA-HGA-5+ gives you the freedom to build up your wireless network anyway you want.

More Performance Tests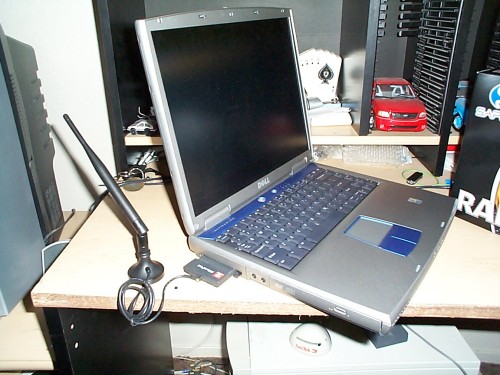 Anyone up for some War Driving?



With the antenna equipped, the notebook became an even more versatile tool. The signal was more powerful, which resulted in a higher connection speed and even less packetloss while playing games. I achieved a signal from about an additional fifty feet away, through the front door of my apartment. The signal strength in the bad areas of my apartment increased in all cases tested.

I repeatedly asked myself: "For most users, is the external antenna necessary?" and came to the conclusion that it depends on your situation. Some people might need the range, but most will probably never require more than the internal antenna. However, one should consider that this same external antenna can be used on the WP11A+ access point, which would help in most cases. It was apparent that the WA-HGA-5+ would come in quite handy while "War Driving" (scanning areas for available access points to acquire net access outside your home) as well.



It's useful, sure, but worth $50? That depends...





A Tough Call

The WL11A+ was definitely a great wireless card. I would not think twice about recommending it to someone looking for a good 802.11b card (but I would warn anyone else to wait for faster 802.11g hardware from Compex). The card offered excellent signal strength, was packaged with a sturdy plastic case, and included a port for an external antenna.

WL11A+ (Card) Overall Score: 9 / 10

The antenna seemed a bit harder to justify. While it was obviously a great tool for acquiring a better signal, its cost seemed to outweigh its performance boost. Maybe it was just because the WL11A+ and WP11A+ do so well with an internal antenna that they do not need a bulky external one. However, if 'War Driving' is your game, or you simply want to boost the signal of a Compex wireless card or access point, the WA-HGA-5+ is hard to beat.

WA-HGA-5+ (Antenna) Overall Score: 7.8 / 10