Review: Asus V8200 Deluxe GeForce3 (Page 2/11)


Posted: May 8, 2001
Written by: Tuan "Solace" Nguyen

Asus V8200 Deluxe Specifications

Below are the standard specifications for the V8200 Deluxe.

Third Generation NVIDIA GeForce3 nFiniteFX GPU
On Board 64MB 3.8ns DDR Memory clocked at 460MHz (2x230MHz)
LightSpeed Memory Architecture
3.2 billion AA samples per sec fill rate
7.36GB/sec memory bandwidth
High-Performance Hardware Anti-Aliasing
350 MHz RAMDAC
DVD software included
AGP 4X/2X, AGP texturing and Fast Write supports
Microsoft DirectX 8 and OpenGL 1.2 Optimizations and support
Programmable Vertex Shader
on-board DVI-I support
Second Generation Integrated Transform and Lighting (T&L) Engines
Drivers Support for Win 9X, Win ME, Win NT4, Win2K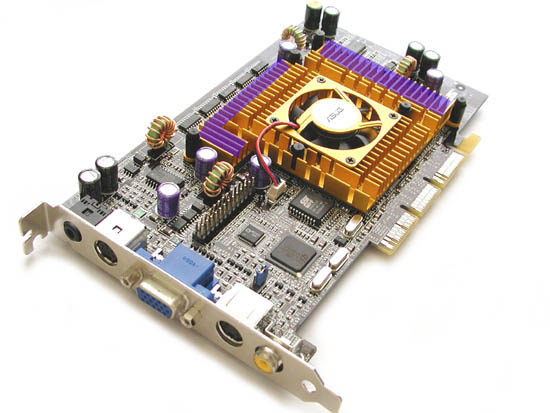 Asus V8200 Deluxe with all the extra video in/out features


Above were the basic features of the GeForce3 GPU itself. Asus however, has decked its board out with other features you donít find anywhere else. They are:

3D LCD Shutter glass output
S-Video IN and OUT
Composite OUT

Looking from the board above, not only has Asus gone with its own board design, it has maximized the space usage on the board and packed all of the above features in without using a large PCB. Another item I really appreciate on the V8200 is its use of heatsinks. Asus places a heatsink on the core that is similar in size as the one used on the Leadtek GeForce3. The main difference between the heatsinks on the V8200 and the WinFast is that the V8200 has dissipation fins, while the Leadtek has two flat blocks.

Those of you who have read my guide on heatsinks know that lots of heatsink fins are crucial to the performance of the heatsink. Having fins increases the surface area of a heatsink, enabling it to transfer the heat from itself into the surrounding air. Iíve shaded in the portion of the V8200 in the above picture where Asus has placed heatsinks on the memory modules and the left heatsink seems to be rather thin. Both the memory heatsinks become flat so they fit underneath the core heatsink to cover the entire row of modules, cutting down surface area in the process. Now this is okay, but I still would have preferred memory heatsink that are the same size as ones on GeForce2 Ultra boards.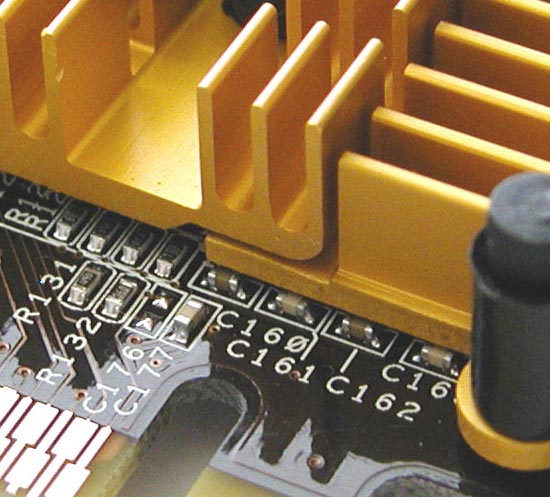 Close but no cigar


With the heatsink fins in mind, I hypothesize that the V8200 Deluxe will overclock better than the WinFast GeForce3. Whether the vanilla version of the V8200 will have the same heatsinks is still in question.

While testing, the heatsinks on the V8200 Deluxe were much cooler to the touch than the WinFast GeForce3ís. Iím really pushing Leadtek on changing heatsinks and I think it should follow my instructions on this one.