Asantť FriendlyNet 3004LC


Posted: March 5, 2002
Written by: Davey McWatters

Asantť FriendlyNet 3004LC


---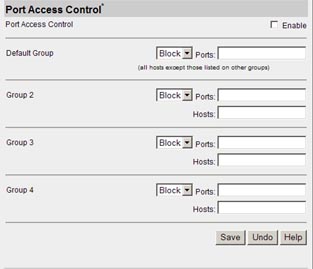 This area may look complicated but it is actually fairly simple to understand. All it does is allow you to block or allow certain ports to pass through your router. The computers on your network are assigned to groups based on their IP address. You have the option to assign certain IP addresses to certain groups yourself. For example, you could set group 2 to contain hosts 1-50, which would be all IP addresses between and including 192.168.123.1-192.168.123.50. If you donít want them to have FTP access you would enter 21 into the port box. However, if you donít want them to access anything you can set the drop down box on allow and enter nothing in the ports box and save it. If you want them to have access to everything to simply assign the drop down box to allow save it. Thatís all there is to setting up port access control. The next area is titled Popular Applications and looks like this:






This area allows you to punch holes in your routers firewall if you wish to do so. It simply opens a port upon trigger and lets data pass through. The opened port then remains open for only 60 seconds of inactivity. It has a small list of popular applications to choose from including: Battle.net, MSN Gaming Zone, and QuickTime 4 streams etc. To set this up for any application you simply enter the outgoing port number into the Trigger box. For example, since FTP is usually used on port 21 you would enter 21 in your Trigger and incoming port boxes since it uses the same port for incoming and outgoing data. Then enter the port the application will receive data through in the incoming port box. Make sure you click enable, then save and reboot your router. The last part of the security tab will look like this:






You will have two more areas in this tab you may configure if you desire. The first is Hardware (MAC) Address Control. This allows you to allow and disallow certain computers to have certain privileges. Using MAC addresses is more secure than IP addresses because MAC addresses donít change unless you physically change the hardware NIC. If you click configure in the Hardware Address Control dialogue you will be presented with a screen like this:






It should be very self-explanatory; however, I will make a quick run through of how to set it up. First, you will want to select the enable check box at the top. The second option down allows you to select the default type of access for hosts with MAC addresses not in your configuration table. Asantť makes it very easy for you to find and insert the MAC addresses into the text boxes. The drop down box will give you a list of the computers on your LAN and from there you can select copy and the box you wish to copy it to 1-4. After copying the MAC addresses you wish to give special privileges to you must either give them LAN access or WAN access. Giving them WAN access will also give them LAN access. If you donít wan them to be able to access the internet you will want to select LAN as your access type. Thatís just about all there is to setup in this area. Back to the security tab:






The last configurable option on the security tab is titled Advanced Security. This allows you to set the DMZ (demilitarized) host and to set an IP address you want to allow your router to be remotely administered from. The DMZ will set a computer completely outside your routers firewall. You should only use this if the other options in the router will not give you access to what you need. The remote host area allows you to either insert an IP address you want to allow to remotely configure your router or, if you use 0.0.0.0, it will allow access from any outside computer as long as you have the enable box checked.