Alienware 700MHz Athlon Area 51: Aurora (Page 3/10)


Posted: April 5, 2000
Written by: David "Spunk" Grampa
Estimated retail price: $2,399.99 + S&H


External Design

I feel no shame in saying, black is cool! 'Noire' is the modern color of the 00's, and this is a modern computer. A fast PC should have a body like a fast car, so appealing to the eye that you don't have to be riding in it to enjoy it. Am I right? The Aurora is pleasing to the eye. I don't want to get into any buff versus beauty arguments, but wouldn't it be nice to have both? Check out the official Tweak3D kick-ass computer setup in the pics below.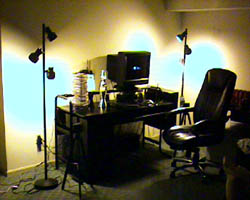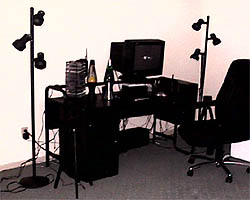 These pics make my pants shrink. To the left, a hardcore night shot of the system in action, and to the right a daytime pic.



As you can see, this computer looks really sweet. Although most of us tweakers may not be too worried about style, it is an issue us computer geeks need to confront =) Alienware made the Aurora perrtty!


Internal Design

Before the flames start flowing in, I better get to what matters most- the raw technicals of this machine. Internal design plays a major part in the optimization of your PC. Consistent air flow, and sufficient room between components is a must. So did the Aurora pass the tweak-ability test? Barely. Containing only two case fans (AGP/CPU Fan and Power Supply Fan) along with the CPU Heatsink/Fan and an Elsa Video Card Fan, will get you by, but is by far not the coolest solution we've seen. Another $30-$40 dollars and Alienware could have put to use two neglected fan locations. But I guess they leave that up to you.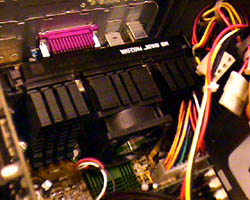 Did you spot the fan behind the Athlon, or how about the fan that usually cools the hard drives towards the front of the case? Well of course you couldn't, they are missing! Can't have it all I guess... On a more positive note, the inside is neat and clean. Thankfully, dangling wires are not to be found. Instead, wires and internal cables are strapped securely inside. A delicate task requiring the work to be done by hand, work that Alienware took the time to do for you... Aurora's cooling system is not entirely complete, leaving room for some cool upgrades. Now we'll step aside from this show and tell and let the Aurora display its extraterrestrial capabilities.



Internal/External Design: 8.0/10





[ Customize an Area 51: Aurora at Alienware! ]