Review: 3DPower/Absolute Morpheus GeForce3 (Page 3/7)


Posted: July 9th, 2001
Written by: Tuan "Solace" Nguyen

Video Decoder

The Morpheus uses a new Conexant 0113 video encoder chip that can display resolutions up to 1024x768 on your TV. However, Iíve talked about this in my review of Leadtekís WinFast GeForce3 TD and explained exactly why there wonít be a significant difference between 800x600 and 1024x768 on TV.



Because the NTSC standard only has 262.5 lines of vertical resolution per field, even 800x600 is way beyond its scan resolution. PAL should give you slightly better image but since computers generate more static images than regular TV shows, PALís 50Hz refresh rate will be a killer on the eyes. 1024x768 is therefore not a practical TV resolution.

So what do you do if you want big screen gaming? The only solution is to get a large Plasma screen that has VGA connectors on the back. Pioneer has plasma displays that do but they command hefty prices so watch your back.

Cooling and Overclocking

3DPower says the Morpheus comes with a cooling system called ICE Cube. However, Iíve seen older GeForce2 cards using the same cooling solution that comes with the Morpheus. Perhaps the Morpheus has an onboard ASIC that sends cooling signals to the GPU when itís not doing much processing? Unfortunately, thatís not the case either. What I really want to see is for the GPU to be moved onto the other side of the graphics card. Because when used in a tower case, the GPU and Fan points down and it would help airflow and cool the card better if both were pointing up into the air where there are more fans instead of more scorching expansion cards below. It would definitely be impressive if someone were to do it.

Overclocking the Morpheus was a breeze to do just like every other NVIDIA card. Using the famous Coolbits registry add-on for the Detonator drivers, I was able to pull the core speed up to 247MHz and memory to 545MHz. Thatís a difference of 85MHz for memory. Because the GeForce3 uses four independent memory controllers, memory bandwidth isnít a real limitation and therefore the memory and core overclocks shouldnít give you much of a performance boost.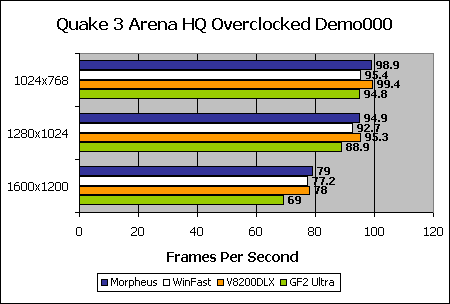 This isnít necessarily a bad thing. Since increasing the memory speed by so much doesnít give you noticeable improvements in performance, it tells you that the GeForce3 is extremely efficient in its use of bandwidth, able to process at fast speeds without faster memory.

The Morpheus and V8200 Deluxe take top places here thanks to more efficient cooling methods. The Leadtek doesnít have very effective memory heatsinks.