Ultima PC: Issue 1 (Page 2/14)


Posted: July 29, 2000
Written by: Tuan "Solace" Nguyen

Getting started

First things first, you better make sure you have the space to put together this kind of PC. It will take up lots of space. Make sure the desk you have is at least 2.5 x 1 meters in dimension. Make sure the desk is solidly built and can hold plenty of weight. You may want to consider a desk that is at least 1 inch thick. Desks that are thin tend to buckle and bend under stress. Also, you may want to locate your desk inside a room with good ventilation that also contains an abundant number of power outlets. You'll want at least two outlets. You should avoid jamming in all your components on power strips to one outlet. That type of setup really taxes that outlet causing anomalies such as display flicker and such. You'll also want a cable and phone outlet for all your broadband needs.

For your seating needs, I suggest one with ample cushioning all over the place. With a PC such as this, it is assumed that you will spend most of your hours in that chair. You'll want to avoid chairs that create ass "signatures" easily. And one that has some breathing room too, to avoid those unsightly wet marks from prolonged exposure.

For those that are truly insane, place your setup in your house basement (if able). And things get even better if your basement floor is raised. Raised floors offer the best bass reproduction. Oh yes, baby. Even for a more down-to-earth system, you should skimp on basic location and living needs. It'll make the computer experience that much better.

With all that in mind, let's build!

The Ultimate PC



The Case [ PC Power & Cooling Deluxe Chrome Tower: $ 429.00 ]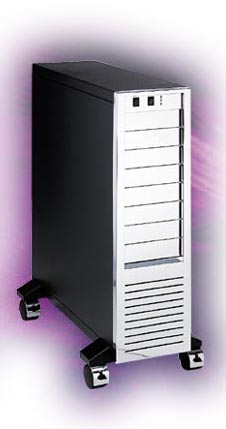 - Construction: 16-18 ga. steel
- 5.25" Drive bays: 10 HH
- Motherboard Type: Baby AT, full-size AT, ATX
- Power Supply Type: Slim or ATX (full-tower option)
- Card Capacity: 7 full-lengths
- I/O Ports: Template dependent
- Keyboard Ports: Template dependent
- SCSI ports: 4
- Front Panel Switches: Power and Reset
- Front Panel LEDs: Power, HD1, and HD2
- Aux. Cooling Fans: 2 ball-bearing fans (incl.)
- Filtered Inlets: Yes
- Side Access: Removable side panel
- Front Access: Removable front bezel
- Casters: Included
- Weight: 47 lb. (net)
- Dimensions: 22.5"D x 7.5"W x 27"H
- Finish: Black with chrome bezel
- Safety: Meets UL and FCC-B
- Origin: Made in the USA
- Options: Redundant power, fans

This case instantly came to mind because of PC Power & Cooling's reputation. This case is manufactured using 16 to 18-gauge steel. You can't really beat this case. It offers ample room. Seven full 5.25" drive bays keep you frantically searching for upgrades and add-ons. Luckily, we'll be able to deck this case out to its full potential. The only negative side to this case really is its lack of 3.5" drive bays. Lots of internal space allows you to tweak and upgrade without coming out with bloody fingers and knuckles. We all have experienced that before and we really want to avoid the bloodshed until fragging time. Two high performance fans are included to chill your hardware, all of which are filtered to keep out airborne silicon killers.

This case is solid as a rock yet moves around with ease thanks to the lockable wheels on the bottom. What else does this massive case offer that other cases do not? On the back is a in-line slot for dual redundant power supplies. The ultimate computer must be able to handle vibrations and be able to sustain continuous power. This PC accepts nothing less than redundant power. Speaking of power supplies, let's get the most decked out power supply for our radiator here.