PC Pranks and Terrible Tricks (Page 2 of 5)


Posted: January 7, 2003
Written By: Dan "Tweak Monkey" Kennedy
---
---


The Fake Desktop (cont.)

Now you have a choice as to how you're going to screw with the victim. You can either hide the original icons entirely or create a backup directory to hold the real desktop. This requires a bit more skill.

Choice 1 (easier):
Right click the desktop and choose Arrange Icons By. Turn off Show Desktop Icons. Now it appears like their desktop is fully functional. But none of the icons are really there. In fact, left clicking will now do nothing. To fix this later you'll need to repeat the process but turn Show Desktop Icons back on.

Choice 2 (harder):
Right click the desktop and choose Arrange Icons By. Turn off Auto Arrange and Align to Grid if they were enabled. Now try moving one of the icons on the desktop. You will realize which one is real and which is not.



That's not possible -- is it?



You can decide what to do from here. Perhaps you could hide the icons in a different folder and put it off the screen or in a different folder altogether. Or you could follow it up with one of the other pranks in this guide.

Process for removing this prank:
Uncheck or Recheck any boxes you checked/unchecked. Change the desktop background back to the normal background or blank (Step 6).

Suggestions for this prank:

Before you take a snapshot of the desktop (Step 1), run a program or game for the picture. They will never be able to close it, no matter how hard they try, even if they reboot. Imagine a Solitaire or Minesweeper game that will never go away!
Find a background from a different OS such as Windows 3.1, MacOS [see below], or even Linux. Change the background to this and follow it up with the next prank. The Google Images search is handy here.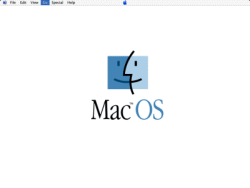 Click to enlarge, save, and set as the background (1024x768)!
Works best with "Choice #1" above and "Hide the Start Menu" below.




Hide the Start Menu / Taskbar:
To follow up the apparent dead desktop, you should hide the Start menu.
1) Drag the area immediately next to the Start button to the top or right side of the desktop.



2) Since you have the image of the button still present, it will appear to be there but actually be out of sight.


Two taskbars are better than one.


3) Now right click the real bar and choose Properties.
4) Check the box "Auto-hide the taskbar" and then OK.
5) You can then (optionally) resize the taskbar by grabbing its edge and make it even smaller. There will still be a visible line to a keen eye at the top of the screen. If moved to the right side of the screen you can basically make it invisible.

Process for removing this prank:
Move the Start menu back to its original place after resetting the desktop image back to default.