Fixing File and Print Sharing with Windows XP


Posted: February 10, 2006
Written By: Dan "Tweak Monkey" Kennedy


---
---
Step 4: Sharing Stuff
This is the fun part. Find any folder you want to share (in Explorer, My Computer, on your Desktop, etc.) with other PCs on your network and right click it, then choose Sharing and Security. If you only want to share a printer, don't share any files here.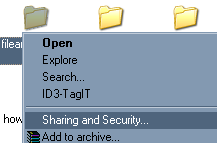 Choose Share this folder on the network. Only check the box beneath this if you plan to allow WRITE access to the files.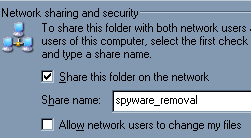 On the PCs that have printers you wish to share, open the Printers and Faxes from the Control Panel (Start, Control Panel, choose Printers and Other Hardware (if available)), then right click a printer and choose Sharing. Once a printer or folder is shared, it will show a blue hand underneath it.
Step 5: Viewing Shared Files
To access your shared files, browse using the My Network Places option. If it's not available in your Start menu, you can turn it on by right clicking Start, Properties, Customize, Advanced, (scroll down), check My Network Places. Once opened, click View Workgroup Computers on the left.
If you don't see a specific computer, type \\COMPUTERNAME (such as \\MainDesktop) in the address bar at the top (View, Toolbars, Address Bar), or its IP address (determined on each PC by hitting the Windows and R keys simultaneously and typing cmd then OK, then typing ipconfig at the prompt. This should show all shared files on a given PC. If it does not work, read on to determine if it's a Firewall problem.

Notice that 192.168.1.101 and DanPC are the same computer.
Step 6: Installing Printers
To install the printer you've shared on any PC, go to the Control Panel and again choose Printers and Other Hardware (if available) then Printers and Faxes. Choose Add Printer from the left menu (or File, Add Printer at the top). Click Next, then choose "A Network Printer... ". Browse for the printer in your workgroup. It may show the printer already. If it does not, expand the computer that hosts it.

It detected and suggested the printer's name.
If you still don't see the network printer, type the name or IP address (see above) of its host computer's name in the top like this: \\FileServer\ or \\192.168.1.1\. When you add the last \ to this line, it should show all printers connected and shared on that PC. If it does not, you may have to manually type in the name you specified for the printer when you shared it earlier. In the example above, you'd have to type the whole thing: \\FILESERVER\HP Desktop 6800 Series if this menu did not show the printer. With XP, the drivers should be extracted from the computer that's hosting the printer. Worst case scenario, you may need to insert a driver disc for the printer or download a new one.
Additional Troubleshooting
At this point you should have no problems accessing files and printers over your network. If there are still problems, your network may not be setup correctly or you might have a software firewall on one of the computers and it's blocking the required ports. The Windows Firewall tends to be good about letting F&PS work okay, so it's only a concern if you've got 3rd party antivirus or Internet security software installed. The most common problems are with Norton Internet Security, Norton Internet Worm Protection (included with some versions of NIS and Norton Antivirus), or another firewall suite. The best way to disable these is to open the security software and turn off its firewall until you've figured out the issues. Then you'll need to configure the firewall to allow access for your local network (generally 192.168.0.1 through 192.168.1.255).
Sometimes, even after uninstalling software like Norton Internet Security, its firewall will still launch at startup. To disable it, enter the Services configuration again (Start, Run, services.msc) and look for Norton Firewall Service or Symantec Firewall. Other firewalls can cause these same problems, whether through McAfee, ZoneAlarm, or other companies. Temporarily stopping these services can help you troubleshoot the issues.
I've used these techniques on over 100 networks and I cannot recall failing to make File and Print Sharing work once I started following this process. Hopefully they can help you out, too, whether you're doing this for fun or for a job. Thanks for reading!