Posted: April 1, 2001
Written by: Dan "Tweak Monkey" Kennedy

Introduction

With all the time we spend tweaking our computers, we never get around to tweaking our cars. Okay, I'm lying. We're all into modding our cars and racing. But what can we do with our old beaters and daily drivers? Oh don't worry, they can still be tweaked. It just takes some time and effort.

Where to Start?

As some of you know, an 86 Ford Taurus isn't a car to be reckoned with. This was an LX model we had in our hands, and let me tell you... that LX must stand for something important, because it's more than a Taurus -- it's a thoroughbred racecar in disguise. Our goal was to get the true power out of this monster of a car.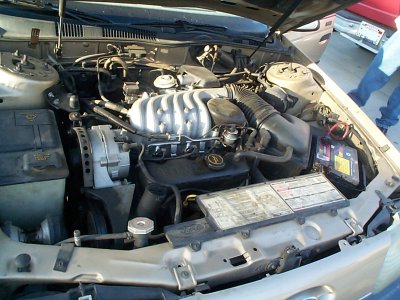 The massive 3.0 liter V6!



The hood hadn't been popped on this beast for a while, so we were shocked to find a 3 liter V6 in the engine compartment. As you all know, F1 cars have 3 liter engines. Okay, so based on that fact, we decided the engine was completely modded. Everything else had to be done outside the engine. I found out on a web site that the 86 Taurus had 140 HP. I figured it must've been a typo, since the 1 key is so close to 6. We'll say it has 640 HP just to be sure. Oh and believe me, you can feel it in the upper RPM band, especially at 3513, and 4337.6 RPMs.

Stage 1 - Lights

As everyone knows from being around the streets (where 4-cylinders with no performance mods rule), clear corners are in. These are the corner lights in front of the car, often used for signaling or turning on your hazard lights when you've won a "race" (note that the word race in quotes means you thought you were racing, but someone else didn't). We know those clear corners are expensive, and we want to keep this car a low budget racer, so we had a different idea.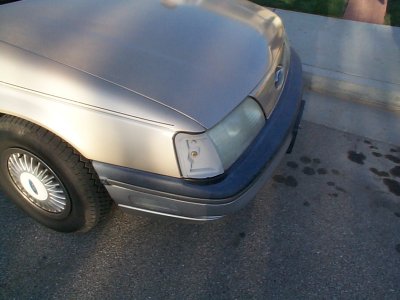 Now THAT is a clear corner!



The best solution was obvious: remove the lens cover entirely. This way people would think it's still there but it's 100% transparent. Opaque slows down a car, after all. And besides, the passenger side corner marker lamp had fallen off during a previous off-roading adventure.

If we had any money at all, we would've put on clear tail-lights as well, or removed those... but that might be expensive or illegal. Anyway, that's enough for the lights. So how about the rest of the car?