Yuan MP-300 Portable MP3 Player Review


Posted: June 3, 2000
Written by: Chris Burek
Price: $249.00

Introduction

Yuan Technology, based out of California, recently gave us the opportunity to evaluate their MP-300, a 64MB-equipped portable MP3 player, which also doubles as a personal voice recorder. The unit, available in both blue and purple finishes (a silver model will be available at the beginning of May), boasts a sleek and durable design measuring 95 x 55 x 16mm, with a weight of only 65 grams (without batteries). The MP-300 is also USB-based, meaning for easier installation and much faster file transfer speeds, in comparison to much slower parallel port-based MP3 players.

MP-300 Specifications


Interface: USB
Memory: 64MB (upgradeable to 128MB)
Signal to Noise (S/N) Ratio: 90dB
Functions: 16 Preset EQs, ADPCM Voice Recording
Power Source: 2 included AAA batteries (rechargeable via USB cable)
Dimensions: 95x55x16 mm
Weight: 65 grams (without batteries)
System Requirements
Microsoft Windows 98 (for now, Windows 2000 soon)
PC with USB port
16MB RAM
16MB free hard disk space
Package Contents
MP3 player
USB cable
Earbuds
2 rechargeable AAA batteries
Detachable belt clip
Driver & Utility CD
User Manual
The player itself features ten buttons - On/Off/Hold, Mode, Menu, Forward, Reverse, Volume Up, Volume Down, Pause, Play/Stop, and Record. The LCD displays the battery level, volume level, play mode, song number with time, and MP3 or recording mode. Unfortunately, the MP-300 doesn't scroll the actual names of the MP3 playing (ID3 support), which is really a neat feature to have. At the unit's rear sits a screw hole for the included belt clip, as well as the removable panel for the memory upgrade slot. The headphone jack is housed at the player's upper portion, along with the slot for connecting the USB cable. Batteries are inserted through the side's sliding panel.




Feeding off two AAA batteries, the MP-300 claims to offer up to eight hours of continuous MP3 playback. The included AAA batteries can be recharged directly through the USB cable, which is definitely a money saver! We also tested with a pair of Duracell AAA batteries and found playback to last from eight to nine hours, in comparison to the 7-8 hour performance of the rechargeable AAAs.

The included user manual was nothing more than a foldout sheet, and not nearly as in-depth as it could have been. Nevertheless, we installed the included software and got the player up and running within minutes.

On the software side, we were somewhat disappointed. The application suite includes an MP3 player, CD to MP3 ripper, and file transfer utility. Being the most important aspect of the suite, the file transfer program boasted a sloppy interface and troublesome control. While it does get the job done, much could be done to improve the interface and features.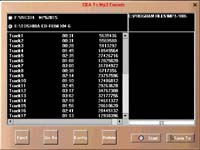 The unit features four play modes - All, Repeat/All, Random, and 1 Track, as well as adjustable treble and bass levels. Included with the MP-300 is a handy power saving function that, when not in use, automatically shuts down the unit after a selectable amount of time. This feature can also be disabled. Additionally, the menu on the player can also display such information as total RAM, free RAM, and total songs. Finally, the last feature of the MP-300 we'd like to mention is the fade-in effect that starts off each song at a low volume and gradually amplifies the song. It would have, however, been nice to see an option to turn the fade-in effect off.

Down to the nitty gritty - we found our review MP-300 to be a tad underpowered in terms of volume, as it didn't amplify our music to levels that are common in portable CD players or for that matter, other MP3 players. However, Yuan has informed us that this will be changed allowing for a higher maximum volume. The included headphones were of mediocre quality, and didn't offer performance to truly illuminate the MP-300's capabilities. Some may be content with using their existing headphones or investing in a pair of higher quality Sony earbuds. With a decent pair of headphones, the sound quality of the MP-300 matches that of a portable CD player, presenting excellent overall sound quality. The included presets for the Equalizer also give you the option of further customizing the sound output of your songs.

As for the voice recording feature, it's quite simple to operate. The microphone is positioned at the top of the unit, and recording quality is quite adequate.

Transferring MP3s is a quick task due to the USB interface. A 6MB MP3 can be transferred to the unit from the PC in well under 20 seconds. This leaves aging parallel port connections in the dust, if you've ever had the chance to compare the two.

Conclusion

Overall, the MP-300 is a great product from the California-based company. The MP-300 boasts a compact and durable design, implementing button placement, not to mention a hefty 64MB storage and voice recording capabilities. Throw in rechargeable batteries (via USB port), a belt clip, and the ability to upgrade to 128MB of memory, and you've got a pretty good deal for $249 US. The only real flaw is the file transfer software, which hosts room for improvement. Definitely consider the MP-300 if you're in the market for a portable MP3 solution.



Overall Rating: 8.5/10