Posted: August 5th, 2002
Written by: Davey McWatters

Wahoo Computers Schema


---
---


Introduction:

Wahoo Computers isn't the biggest name in the case world; however, they do create some of the best cases you can buy. They have several different models you can choose from, everything from the totally acrylic Vapor to the aluminum Schema. Today we will be looking at their Schema they rigged up for us. It is based around Lian Li's PC60 aluminum case; however, it has been modified like crazy. Wahoo offers more modifications for users to pick from than any other company on the Internet.

The Case:




The front of the case is very attractive. Instead of the normal brushed aluminum color they used black. The baybus' look very professional. One of the most noticeable features is the intake fan area. They have fan grills along with an acrylic sheet covering the metal filters. This really adds to the high quality look of the Schema case from Wahoo Computers.




As you can see, they have not used the standard rectangular window kit. They created a custom design specifically for this case. In the lower left hand corner of the side panel, they included a fan to help keep your expansion cards cool. On the window, they show off the hazardous appliqué directly in the center. It dresses up the window and adds the extra bit of style to help put your case over top all of the other cases at the local LAN party.




Not much has changed from the side view of the inside of the case. They stuck with the original safety guards and motherboard header connectors. The only noticeable changes are the cold cathode lying on the bottom, which we will further discuss the placement of later in the article. In addition, the Molex power connectors for the baybus are new to the case.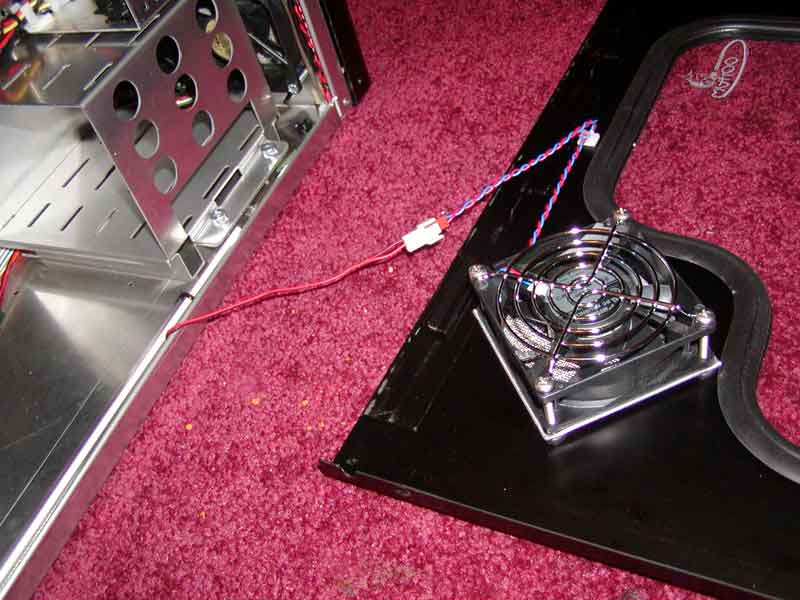 Wahoo has thought of just about everything to add quality to this case. Instead of running a wire straight to the fan on the side of the case, limiting the distance you can pull the side panel off, they have included a quick connection which you can unplug anytime you need to so you can work inside of your computer without having the side panel right in your way.