Introduction
The Velocity 4400 was the first commercially available video card that utilizes the Nvidia TNT chipset. With the flood of cards coming equipped with TNT chipset it wasn't surprising that STB would have their board out first. If you recall, the STB Velocity 128 was one of the first cards that was released using the Nvidia Riva 128/ZX chipsets.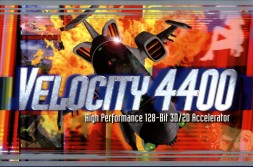 Technology information
The V4400 looks just like the reference board. The only real difference on this board might be the size of the small heatsink equipped on the TNT processor itself. You have probably all seen the specs of the TNT. I don't think it's necessary for me to waste your time by putting all the information in this review. However, if you are interested in the specifications please click here to go to Nvidia's site and read it all yourself. The main things to know about the TNT is you can run OpenGL and Direct 3D at resolutions up to 1600x1200, it can run games in 32 bit color, and has amazingly kickass 2D that rivals or beats the Matrox Millenium II /G200 cards with resolutions of up to 1920x1200 true color using the board's 16 MB SDRAM.
Installation
Unlike the Riva 128, the TNT boards (including the V4400) have a rather simple installation process. However, some steps remain. As before, you should disable any video shadowing or caching, make sure you have an IRQ assigned to VGA, and on the AGP boards you should set the aperture size to 256 MB in your BIOS as well. Boot up, install drivers, restart and go wild.
Features
The Velocity 4400 features a standard reference design w/ heatsink, as mentioned above, has 16 MB SDRAM, a 250 MHz RAMDAC. Also keep in mind that the AGP boards support AGP 2x, something that most people are still not very familiar with. The included software bundle may appear to be a bit shabby to gamers, but this card wasn't designed only for gamers. This card makes an excellent professional card as well. Here's what you get: