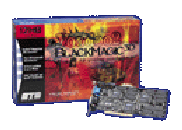 Introduction
The STB Black Magic 3D has been around for over 6 months now, but is still a top performer because of the voodoo2 chipset. How does the voodoo2 perform in today's gaming world? What are the advantages and disadvantages of purchasing a voodoo2 card now? Hopefully this review should answer any questions you have related to this.
Technology information
The Black Magic 3D is a 12 MB PCI add-on card, and as mentioned above, uses the 3Dfx voodoo2 chipset. To install a voodoo2 card you must already have a 2D graphics card, and (preferably) a Pentium II processor or faster. If you are a serious gamer who needs those extra FPS when it counts, anything less than a Pentium II 233 will hardly be adequate. The Black Magic 3D has a maximum resolution of 800x600 for a single card, and 1024x768 with two cards (SLI). There are other methods of using higher resolutions, but they are not supported.
Installation
The installation was simple as usual. I have never had any problems installing a voodoo2 card. The user must simply place the card into a PCI slot and start the computer up, install drivers, reboot, and begin gaming.
Features
The software bundle was fair, but not exactly excellent. If you don't have either of the included full version games it may seem a little extra special... but I think I speak for quite a few of us when I say "Who needs another copy of G-Police and BattleZone?".