Soyo SY-KT333 Dragon Ultra


Posted: May 29th, 2002
Written by: Tuan Huynh
---
---
Introduction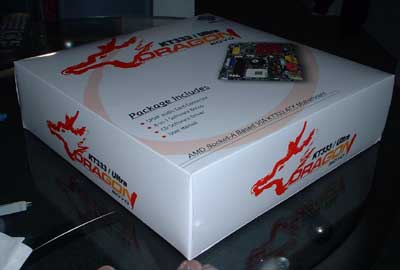 Over the past year, Soyo has totally changed the way users looked at the company with their Dragon series of motherboards. In the past Soyo has been regarded as a low end and a motherboard manufacturer that produced board that failed often. Lately Soyo Dragon boards have been known for stability and performance, today we'll see if Soyo's latest offering the SY-KT333 Dragon Ultra lives up to the Dragon name.

Features




Like all the other Dragon boards, with the exception of the Fire Dragon, the SY-KT333 Dragon Ultra is built upon a stylish black PCB, though a silver colored version of the board called the SY-KT333 Dragon Ultra Platinum is also available.





On the connector side of things, the SY-KT333 Dragon Ultra features the typical ATX back panel I/O. Nonetheless, there's 2 PS2 keyboard/mouse, 2 USB 1.1, RJ45 Ethernet, 2 serial, parallel, and audio ports.




In terms of expansion, the SY-KT333 is a pure enthusiast's board without a trace of any "OEM" required CNR/ACR/AMR slots. The board features 5 PCI slots, which are purple which you can either love or hate, as well as an AGP Pro slot. Towards the bottom of the slot are also the Smart Card Reader, Compact Flash/Smart Media reader, USB 1.1, and High Speed USB 2.0 headers.




Since AGP Pro cards require extra power, the SY-KT333 draws power for AGP Pro cards via a 12 volt connector typically used by hard drives and CD-Rom drives.