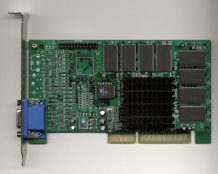 Introduction
Since being founded in 1989, Skywell Technologies has been a major player in the foreign and United States markets. Located in Taiwan, the manufacturer has produced several kick ass products recently and in the past. The Skywell Magic TNT is no exception. Molded from an NVIDIA reference design, with a bit smaller dimensions, the card lives up to the standards of others in its class, and even exceeds expectations in certain categories.
Technology information
If you're still in the dark as far as the TNT goes, you've really have some reading to catch up on. The TwiN Texel design allows for excellent gameplay and great business application performance, and the features are unequaled by any other 2D/3D chipset at this time.
To sum it up for you, the Skywell Magic TNT is a very small AGP card with 16 MB onboard 8ns SDRAM.
Installation
As with all other TNTs I have tested thus far, the installation was flawless. After unpacking the Magic TNT, I located my AGP port and proceeded to remove my Canopus Spectra 2500. (of course, after I had removed my old drivers and the computer was shut down) After removing the Spectra, I lined up the connectors of the AGP port and pushed the card in. After verifying that the card was properly inserted, I boot up the PC and was prompted for drivers. So I inserted the included drivers CD. Within minutes I was back in Windows and ready to start gaming.
Features
Typical of most TNT based cards, Skywell did not add many features outside the reference design. No software bundle was included, there was no TV-Output, (although when purchasing, this is an option) and the card did not offer any cooling besides a measly heatsink.