Posted: June 12, 2002
Written by: Adam Honek

Samsung 1200NF


---
---


1200NF, its intended audience

Boasting a 22 inch Mitsubishi Diamontron tube with a 20 inch viewable area this monitor is undoubtedly one of the big boys on the block. Given its specifications and performance (which you may read further on) the model is ideally positioned at demanding users or CAD users. Being able to produce a resolution of 2048x1536 (which not all cards can produce in 32bit color depth and high refresh rates) makes it a serious toy to own, one you would ideally have the power to put to good use. Of course playing games on such a big screen has its own elite rewards but its real power is in graphical work, designs. The fine 0.24mm dot pitch also positions it as a monitor suitable for CAD work where fine detail reproduction is a must.

With its not so cheap price tag of around $750 it is not for everyone, when technology meets performance the price still hovers near cloud level. What it loses in saving you money it makes up in quality as we found out in our labs.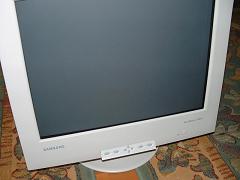 The Manual

Samsung's department responsible for producing manuals to their products must of gone through several courses on managing its content, layout and overall design. We are particularly impressed to see it come in several languages making it reward a wider spectrum of users with its contained knowledge. Layout was very good and tidy, headers were clearly identified in bold and text was well presented. The explanations themselves were written without room for error, aka no one could possibly not understand what they are explaining. Images took an already strong presentation and made it easy to associate the text with the topic discussed. On the back page there is a list of Samsung offices both sides of the pond, useful should anyone need it. One would be very hard pushed to produce any form of constructive criticism regarding the manual, it's a job well done for Samsung.

Smartscreen

Bundled on the same floppy disk as the monitor's USB drivers was a copy of a program by the name of Smartscreen. Once installed it serves very much as a software OSD allowing the user to adjust the screen's properties on screen rather than via pressing individual buttons on the monitor itself. We found Smartscreen so easy to use we cannot think of a reason why anyone wouldn't wish to install and use it. The GUI design showed clarity and represented a well designed layout making controlling the program fairly obvious. For those not wanting to lean over to the screen or for those who simply prefer the use of a mouse this is an inclusion bringing the aid to such relaxation.

OSD (On Screen Display)

The OSD is the usual Samsung type which hasn't changed much from 1996 in style which is not a bad thing. Its clear easy to use navigation via using simple key combinations makes it one of the more pleasurable in use. On top of that as you might expect from a monitor of this class it features many options designed to optimize the image environment to your own preferences as well as ensure it's quality. We made good use of the OSD before proceeding to the tests, it was vital to make sure the screen was configured well before evaluating its performance. Below is a list of the control options it contains:

1.) Position
2.) Size
3.) Zoom
4.) Recall
5.) Pincushion/Trapezoid
6.) Parallel/Rotation
7.) Pinbalance/Linearity
8.) Side Pin Corner
9.) PinBalance Corner
10.) Color
11.) Clear Moire
12.) Focus
13.) Purity
14.) Convergence
15.) Sharpness
16.) Degauss
17.) Reset
18.) Sync. Input Type
19.) Video Input Level
20.) D-SUB/BNC
21.) USB
22.) Menu Position
23.) Menu Duration
24.) Languages
25.) AutoSize

Box Contents

1.) Manual
2.) Warranty card (Not available in all locations)
3.) Monitor and stand
4.) Install driver
5.) USB Diskette
6.) Signal Cable
7.) USB Cable
8.) BNC Cable

Specifications

CRT Type Flat Aperture Grille
Size 22" diagonal
Viewable Image Size 20" diagonal
Dot Pitch 0.24mm Uni-Pitch Aperture Grille
Max Resolution 2048 x 1536 @ 79 Hz NI
Optimum Resolution 1600 x 1200 @ 85 Hz
Input Video Signal Analog RGB
Video Level 0.7Vp-p
Video Bandwidth 340MHz
Sync Type Separate H&V, Composite H&V, SOG
Power Consumption < 150 Watts Maximum
Power Management VESA DPMS, Energy 2000, NUTEK, EPA
Dimensions W x H x D 510mm x 500mm x 476mm (19.7" x 20.0" x 18.7")
Weight 31.5 kg (69.3 lb)
Warranty 3 years parts and labor and CRT