Introduction
As the "little brother" of the MidiLand S2 4100, the S2 4030 has a huge reputation to live up to. The 4030s are smaller, look different, but cost under half the price. This makes the speakers a perfect target for most gamers. They are not as expensive as some very high quality brands, but are more costly than average brands.
Installation
Speakers are all the same, right? Not with MidiLand. Included with the speakers are all kinds of cables, wires, and even a control module.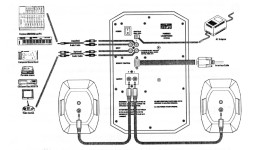 Don't be fooled by this picture, the installation is easy. Check out all those connectors! (note- the big 'thing' in the middle is the huge subwoofer, not a PC)
Installing the control module is a breeze too. It has adjustments for volume, treble, bass, 3DSP (tm), balance, and others buttons.
Features
The actual wattage of the speakers matches almost exactly the Platinum Sound SWX-1600 speakers reviewed recently, but the subwoofer is a little short. The other features are impressive however.