Review: ATI Radeon VE (Page 4/8)


Posted: July 8th, 2001
Written by: Tuan "GTk2" Huynh

Multi-desk

Appian's multi desk is a very useful utility if you usually clutter up your desktop. It works as if there are 5 virtual desktops. Much like in Linux, you can choose to open a bunch of windows in desktop 1 and find that you need to open something but your desktop is already cluttered. With just a few clicks you can switch to virtual desktop 2 and have a clean desktop without anything on it.

Business users will find this feature the most useful while in the office not working. Here's an example; lets say you decided to take a break from working and decide to go on IRC and chat with people at Tweak3D and your boss just walks in and see's you chatting, not doing work and gets mad. If you had Hydravision Multi desk and assigned a shortcut to switch to the next desktop you could just tap the shortcut key, have MS Word with some document opened on the next desktop and the boss would never know you were attempting to be superior to him.

Drivers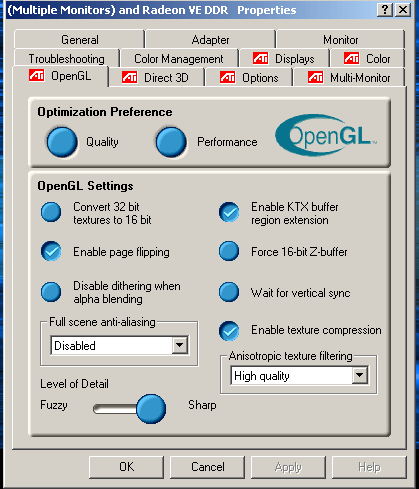 Here we see the typical ATI tabs that we've seen since the Rage 128 days.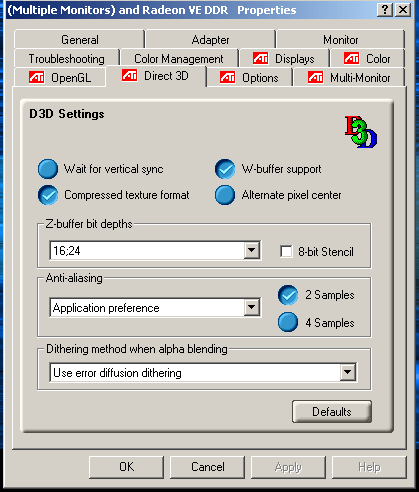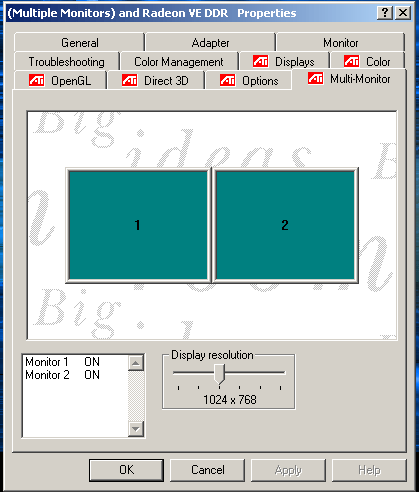 With the Radeon VE we see more features under Display Properties like the new Multi Monitor tab. Since Windows 2000 doesn't support extended desktop natively, ATI had to implement it itself. It took a while until I figured out how to enable it, so here's a tip: To enable extended desktop, double click on the thing that says "Monitor 2 Off" until it says on, choose a resolution, then click Apply.

Windows 2000 Drivers

ATI's Windows 2000 drivers aren't perfect. There are a few problems that I ran into and would like to point out. When setting the refresh rate, you have to set it by clicking on the Monitor button under Display Properties, set the maximum resolution, then double click on the monitor under Multi-Monitor and choose you're preferred refresh rate in the drop down menu. Another problem occurs when you try to set refresh rates on your second monitor. You need to use a monitor that supports Plug-n-Play and supplies DDC information or you'll be stuck at 60Hz refresh because you can't use the same method you used to change the refresh rate as on monitor 1. I spent many hours with the second problem trying to set the refresh rate using BNC cables.