Review: ATI Radeon VE (Page 1/8)


Posted: July 8th, 2001
Written by: Tuan "GTk2" Huynh

Introduction

Well guys, some of you might know me, some might not, but I am the newest editor to join Tweak3D. Today Iíll be taking a look at ATIís entry level workstation offering, the Radeon VE (Value Edition). It was only last summer that the Radeon was released and spin offs for various types of users were released. The spin offs ranged from the budget SDR to the feature rich All-in-Wonder. One market that ATI didnít have a product for then was the Dual Display workstation market.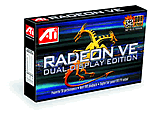 Enter the Radeon VE, ATIís solution for the corporate/business market. It might seem like that the gaming market is a larger market then the corporate/business market, but the fact is, corporate/business sales make up most of the PC sales. First off Iíd like to point out that the Radeon VE is for the corporate PC user. If you are a gamer on a budget or general gamer, I suggest taking a look at ATIís other solutions such as the Radeon SDR and DDR cards.

When ATI unveiled the Radeon VE it was very clear who and what ATI was going to be competing with. Instead of competing with the GeForce 2 GTS, ATI is now competing with Matroxís G450 and NVIDIAís GeForce 2MX with TwinView.
Letís take a peak at the card.
The Card at an angle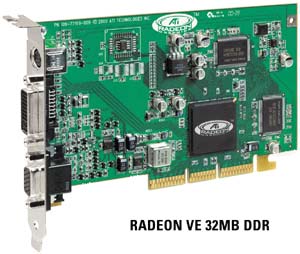 At first glance youíll notice that thereís a VGA connector and a connector that is slightly larger than the VGA connector. The larger connector is the DVI connector which is the standard for flat panel monitors. You might be wondering if itís a Dual Head card, whereís the second VGA connector? ATI has included a DVI to VGA connector so you can attach a second CRT monitor to the card. There is also a TV Out connector that does S Video output and Composite via a dongle.