Pocketec Pockey Datastor USB 2.0 External Hard drive

Posted: December 2nd, 2002
Written by: Justin "The Sheriff" Woods
---
---


Installation


Installing the drive was as simple as it can get. Here is the process to install it in Windows 2000 and XP:
Unpack the drive
Plug the drive into any available USB port (preferably USB 2.0)
Use Drive to your little heart's content

If you have windows 98/98SE, you'll need to install the drivers from the CD, otherwise Windows 2000/XP recognizes the drive and installs the standard drivers. One note to mention is that Windows XP will report several errors during the install. Pocketec's Online FAQ addresses the errors, stating that it is ok to ignore them. Earlier, I mentioned not needing the drivers, so you might be wondering why I was taking the time to install them. The answer is simple: When I spoke to the PR person at Pocketec, he told me that they have a security application that allowed you to password protect the Pockey Datastor drive, thus making it almost impossible to steal data from the drive. After searching the CD and website, I found no such software or documentation. It is possible that this is something that Pocketec may be planning on implementing, and sounds cool. Let's hope it sees the light of day.
Using Windows XP Pro, you can see that the Pockey Datastor drive shows up like any other removable storage device, and you have to stop it before you can remove it. In the picture, I have it set to be displayed by device components. This is a nice feature to have available if you have a lot of USB devices. Though not critical to use, it is a nice FYI for those of you that didn't know what clicking that option meant.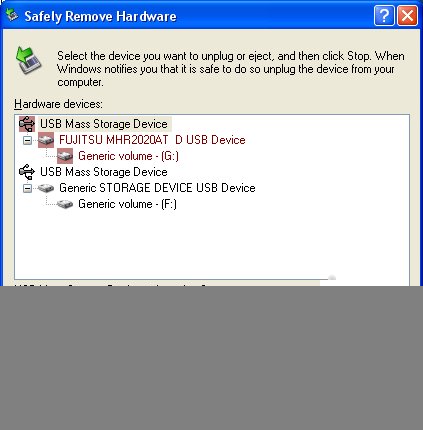 Windows XP also allows you to select between fast removal of the drive, or faster performance. To set these options, do the following:
Open My Computer
Right-click your Pockey Datastor drive (your drive letter may be different)
Select Properties
Double-click the drive in the list (There will be more than 1 listed)
Select the Policies tab
Click the radio button for "Optimize for performance"
Click the checkbox for "Enable write caching on the disk"
Windows will want to reboot The benefits are obvious, you want the Pockey Datastor to be as fast as possible, and setting this little "tweak" will give you a little more performance, plus it makes accessing the drive a lot faster.
I think it's time to mention one more thing. Due to limitations set by the FAT 32 standard, the drive's initial format, you can't transfer data larger than 4 gigs at a time, however; reformatting the drive in NTFS will eliminate the 4 gig boundary, and you can transfer data in any file size you want. If you format it, make sure your OS is also on a partition formatted in NTFS or it won't be able to read the drive's contents. Formatting the drive in NTFS also limits your ability to install the drive on multiple PCs unless they are also formatted in NTFS. Considering most of you will not have files in excess of 4 gigs, I wouldn't worry about this, again, I just brought it up as an FYI.