PlexWriter 12X SCSI vs ATAPI Shootout (Page 1/7)


Posted: November 17, 2000
Written by: Tuan "Solace" Nguyen

Introduction

This year, I wasnít able to make an appearance at Comdex 2000. Rest assured, next year will be a different story. However, not being able to go doesnít mean I donít get exclusive dibs on some of the latest and greatest hardware gadgets that are being showcased. One of the many companies that are at Comdex this year is Plextor -- renowned world leader in the CD optical market.




Let me take this opportunity to tell you a little bit about Plextor if you havenít heard of them before. Plextor is a company whose line of products is CD oriented. It produces optical drives for the workstation and server environment. Only recently has Plextor entered the home computing market, and they certainly havenít let their guard down. Plextor is known for producing the worldís best CD-ROM drives. They are fast, reliable, rugged, and are always based on the SCSI interface. Since these drives are SCSI (being the interface for high performance) you can expect them to live up to that fact.

Plextor has also recently entered the ATAPI (EIDE) market, assuring that they wonít be missing out on users who crave for Plextor, but donít have the means to acquire SCSI. Does this mean that the new ATAPI drives from Plextor are poor performers? Far from it.

Today we have an exclusive shoot-out between the new SCSI-brute, the PlexWriter 12/10/32S Internal and the IDE speed demon, PlexWriter 12/10/32A. The last character on the end of the speed rating stands for the drive interface -- S being SCSI and A being ATAPI.

Here's what they look like: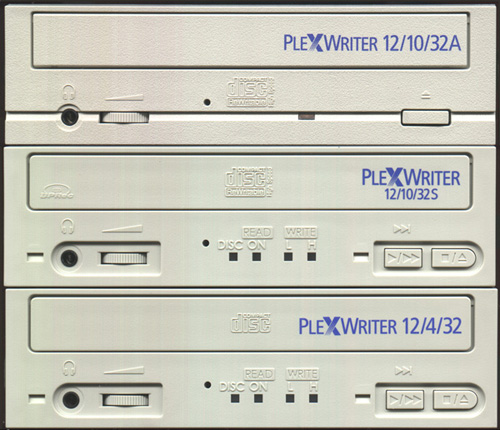 Top: PlexWriter 12/10/32A (ATAPI) Middle: PlexWriter 12/10/32S (UltraSCSI)
Bottom: PlexWriter 12/4/32 (UltraSCSI)

Let's take a look at their specs.