Posted: May 7, 2002
Written by: Davey McWatters

Plextor 40/12/40A


---


Installation

Installation of the drive was as easy as plugging in the power and IDE cables. Windows automatically detected the drive, as it does with other CD-Rom drives. The drive offers you digital audio cable output if you desire to use it.

Plextorís Plextor Manager 2000 is not compatible with Windows XP. If you hover over it on the setup menu it specifically says do not install it if you have Windows XP. I donít care much for Easy CD Creator that Plextor chooses to bundle with all of their drives, but it works, so that is what we will be using for our benchmarks.

Performance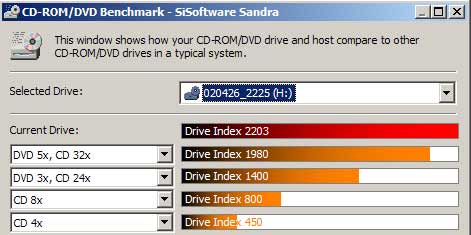 Sandra gives the 40/10/40A a score of 2203 on its speed at reading CDs, approximately 220 points over a 32x CD-Rom or 5x DVD-Rom. The CD used was a Windows XP Professional CD.




Neroís CD Speed was used to test a variety of things on the 40/12/40A. Included tests were speed, seek times, CPU usage, burst rate, and DAE quality. The driveís average read speed is about 28x, while it started at 17x and went all the way up to nearly 37x. Seek times on the drive were quite good, ranging from 187ms to 325ms. Seek time is a very important factor in an optical drive.

CPU usage was also minimal, which is excellent. Five percent of the cpu was the most ever used by the drive. The test found a burst rate of 20MB/s. The first set of tests was conducted using the Windows XP CD and the DAE test was tested with a System of a Down audio CD. The DAE quality is an excellent score, and the drive is able to rip entire CDís in about 3 minutes.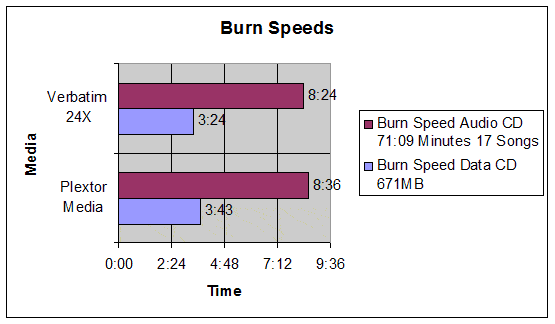 Burning data on the drive is very quick. At the beginning, it seems to burn slow, but as soon as it hits 40x, you can notice a huge improvement in speed. It was able to complete a full 671MB CD in only 3:24 seconds using Verbatim media rated up to 24X. The generic Plextor media followed at 3:43 seconds to complete. Writing a CDRW disc at 12x only takes a little over 5 minutes to complete which is still very quick.

Burning MP3s to a CD takes an unusually long time. It could be the time it takes for Easy CD Creator to convert the MP3 file to a CDA file readable by CD players. Another thing to note is that the drive cannot burn audio CDs at 40x, audio CDs can only be burned at a maximum of 24x. However, 8 minutes is still very quick to burn a full audio CD. Easy CD Creator was used for benchmarks, as that was what Plextor included with the drive.

Conclusion

Overall, Plextor has created yet another solid drive. It is able to read/write/rewrite CDs very quickly. It is one of the top performing drives on the market today. If you are looking at purchasing a new CDRW drive, you should take a close look at any of the available Plextor drives. They all have been outstanding to date. However, you might want to wait a month or two to purchase a 40x, as there might be more available software support.

The only problem I have found with the Plextor would apply to any new CDRW drive on the market. If you run out and buy the newest drive on the market then your old CD authoring software probably will not work with the new drive; therefore, you have to wait for an update to be released to add support for the drive.

Plextorís PowerRec-II technology can be a hassle for benchmarking, but it is a great feature for the end user. It allows you to make perfect CDís nearly every time. It wonít allow you to burn data to a CD faster than the CD can handle it; therefore, making the process much safer and decreasing the chances of making a coaster.

The drive can be had for a mere $140 online, which is extremely inexpensive compared to previous prices of CDRW drives. Lite-Onís 40x drive can be had for around $100, but, as they say, you get what you pay for. Plextor makes very high quality drives that will last for many years.

Pros:
Plextor quality
Great Performance
Burn Proof and PowerREC-II
Fast DAE
Very Quiet
Cons:
Nero would be better than Easy CD Creator to include with US drives.

Overall:9.5/10