Review: Plextor PlexWriter 12x4x32 Ultra SCSI Internal (Page 3/4)


Posted: September 6, 2000
Written by: Tuan "Solace" Nguyen

Installation and Setup

For some reason we had some difficulty with the PlexWriter 12x4x32. The drive wouldnít coexist with our Jaz and Zip SCSI drives but after a few minutes playing around with some alternative SCSI ID settings we managed to get the drive to work. For some reason even setting the drive to use the same ID as the 12x2x20 SCSI that was already on the channel didnít work. Yes, we did take out the older drive.

After we got the drive to work, burning CDís was a soar affair. None of our CD mastering software worked with the drive. From Nero to DiscJuggler, all I got was coasters. After making 5 coasters, I was beginning to get fed up with the drive. Then I decided to use Adaptec EasyCD Creator 3.5 that came with the drive and surprisingly everything worked flawlessly. It seems that most of the CD mastering software that I was using werenít compatible with the 12X writing speed and the only choice I had was Adaptec.

Letís take a look at how the drive performs.

Benchmarks

AMD "Thunderbird" Athlon 1GHz
Asus A7V rev. 1.01
256MB Infineon PC133 SDRAM Cas2
Asus V7700 GeForce2 GTS with official Detonator 3 (6.18
Adaptec 2940U2W SCSI Adapter
IBM Ultrastar 72ZX 73.2GB
Windows 98 SE

Adaptec EasyCD Creator 3.5c

The Numbers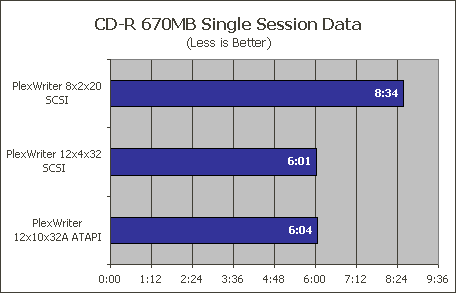 The 12x4x32 shaved off almost 2.5 minutes from its older brother, the 8x2x20. The difference between the 12X SCSI and ATAPI is practically nothing. But the SCSI has a 4MB data buffer whereas the ATAPI version only has 2MB. I just feel more secure with the SCSI drive simply because it handles multitasking better and the channels donít get saturated as easily. While we were writing, we decided to load up a game of Quake 3 Arena, and surprisingly everything went well. I was scared that Iíd make my 6th coaster but that just wasnít the case. Try this with an IDE system and youíll be spinning shiny scrap in no time.